Organizers

Dear Friends and Supporters of Article 9,

We are pleased to send you some information about the Global Article 9 Campaign to Abolish War's recent activities and related developments.
REFLECTING ON THE FIRST FIVE YEARS OF THE GLOBAL ARTICLE 9 CAMPAIGN
As the Global Article 9 Campaign is celebrating its fifth anniversary this year of promoting peace constitutions and advocating for the abolition of war in Japan and around the world, we are commemorating this anniversary by looking back at the first years of the Global Article 9 Campaign, how it has changed since 2005, and where it is heading.
Below is the excerpt of an interview on the Campaign's beginnings, as well as its regional and international dimension with Meri Joyce, International Coordinator at Peace Boat and Northeast Asia Regional Liaison Officer with the Global Partnership for the Prevention of Armed Conflict (GPPAC).
Question: Can you please talk about the regional dimension of the Global Article 9 Campaign, notably through its relationship with the Global Partnership for the Prevention of Armed Conflict (GPPAC)?
Meri: The Campaign started and to some extent evolved through GPPAC. GPPAC was launched as a network in 2002-2003, but really began to be active in 2005. At this time, Article 9 was amongst the topics that brought the participants from Northeast Asia together. The issue appeared as a project that could be concretely worked on in the regional context, as well as applied to other regions to prevent conflicts in practical, non-military, non-violent ways.
At that point, two of the groups in Japan, Peace Boat and Japan Lawyers' International Solidarity Association (JALISA), became the main organizers of this Global Article 9 Campaign, linking very closely with other groups within Northeast Asia. So in its early days, the Campaign was focusing on the regional dimension of Article 9.
Question: What were some of the other groups that were involved?
Meri: There are several in Korea. Among the most active figure Nonviolent Peaceforce Corea, Women Making Peace, and People's Solidarity for Participatory Democracy. In addition to Korean organizations, there are also partners in places including Taiwan, Mongolia and Russia.
Question: Can you talk of the different dimensions of the campaign?
Meri: I see three levels in this Campaign - domestic, regional and international. At the time the campaign was launched, the political situation was different: the government was strongly pushing for discussions on revising Article 9. So part of the campaign was focusing on the domestic level.
At the international level, the debate was looking at Article 9 as an example of a legal norm, or legal mechanism, which can be used to prevent conflict, and extrapolating how this concept can be used in the global context as well.
Question: Can you explain more about the regional and global focus of the campaign?
Meri: In Japan, Article 9 was often seen as an exclusively domestic political issue. So we thought it would be important to show people in Japan that people from around the world were actually in support of keeping this clause - for Japan but also for preserving the peace in the Asia Pacific region. At the same time the potential of Article 9 emerged as something that could be implemented globally, in places beyond Japan.
Question: How has the campaign evolved and changed since its inception?
Meri: At first, the Campaign did have much more of a regional perspective, looking at how Article 9 could concretely contribute within the Asia Pacific region and, particularly, in Northeast Asia or East Asia. But the movement rapidly outgrew the regional context. Through activities or working with organizations in different places around the world, Article 9's global significance came a lot more into focus. One example for instance is the concept of disarmament for development. Article 9 is not just a security issue; it can pave the way to reducing military spending, thus contribute addressing so many of the world's problems, including poverty and climate change.
This interview is part of a series of interviews with leaders, supporters, and participants of the Global Article 9 Campaign conducted by former Peace Boat and Global Article 9 Campaign intern Jay Gilliam.
Jay Gilliam is currently carrying out research on the Global Article 9 Campaign and peace constitutions around the world. He is enrolled in a Master's Program in Peace Studies & Conflict Resolution at International Christian University in Tokyo, Japan.
COUNTDOWN TO THE NUCLEAR

NON-

PROLIFERATION (NPT) REVIEW CONFERENCE HAS STARTED!
On the eve of the NPT Review Conference that will take place May 3-28 at the United Nations in New York, thousands of NGO representatives and engaged citizens from around the world will come together to participate in a series of actions and events calling for nuclear weapons abolition.
On April 30-May 1, the
International Conference for a Nuclear Free, Peaceful, Just and Sustainable World
, will be held. Speakers will address the plenary session, including Mayor of Hiroshima and president of Mayors for Peace Akiba Tadatoshi, John Burroughs from the International Lawyers against Nuclear Arms and Hiroshima Hibakusha (Atomic Bomb Survivor) Kimura Hisakoto name just a few. Significantly, UN Secretary General Ban Ki-Moon will come and address the hundreds of peace and disarmament activists. In the words of the organizers, "Secretary General Ban-Ki Moon's decision to join us is signaling the critical importance of popular action to move governments to do what they must do to abolish nuclear weapons."

In addition to speeches and public addresses, movies will be screened and a large number of workshops will take place on themes ranging from nuclear abolition, economic justice and human needs, to the environment, health and wider peace.
Article 9 will be visited in the debate on "Challenging Asia-Pacific Militarism and Achieving Nuclear Weapons Abolition" as well as in discussions with Hibakusha, as well as in the many more sessions that advocate for the same core values defended by the Global Article 9 Campaign.
Sunday May 2, the message "
No Nukes, No Wars, Fund Human Needs, Protect the Planet
" will be carried through a day of action that includes a rally and march, music and peace festival, and more.
The day will begin with a dynamic rally of speakers and performers from the international delegations, followed by a spirited march across town to the United Nations. Actions will end with an International Peace & Music Festival where there will be music from around the world as well as tents and tables that will provide information and organizing resources for a safe, nuclear-free, peaceful and just world for all. T
he Global Article 9 Campaign will have a presence at the Peace Boat booth in Dag Hammerskjold Plaza.
In addition to official meetings, NGO side-events will take place throughout the NPT Review Conference.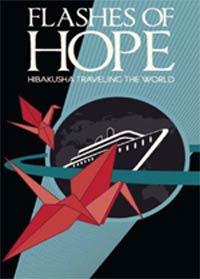 Among the long list of diverse activities, the documentary "
Flashes of Hope
", filmed onboard Peace Boat during its first Global Voyage for a Nuclear-Free World will be screened at the United Nations.Costa Rican film director Erika Bagnarello followed a group of over 100 Hibakusha during their 129-day trip from September 2008 to January 2009 as part of
Peace Boat Hibakusha Project - Global Voyage for a Nuclear-Free World
. A third such voyage departed from Japan on April 16 and a delegation will attend and participate in the NPT RevCon as well as its many side-events.

Several additional events will address Article 9-related questions, including a discussion among Northeast Asian NGOs sponsored by the Pacific Freeze on military spending in Northeast Asia on May 3, and more.


Find out more about the Conference For a Nuclear Free, Peaceful, Just and Sustainable World, including the list of speakers and workshops here, as well as about May 2 Day of Action here.
Find a detailed NPT RevCon calendar of events , including official meetings, side-events and more on Reaching Critical Will's website here.
Visit the Pacific Freeze's website here.
Read about the film "Flashes of Hope" in the Japan Times here.

BAN CALLS FOR DIVERTING OVER-FUNDED WEAPONS BUDGETS TO DEVELOPMENT
"The world is over-armed, and development is under-funded," said United Nations Secretary General Ban-ki Moon, in his address to the General Assembly during a thematic debate on disarmament and world security held on April 19.

"These priorities should be reversed", he added. "By accelerating disarmament, we can liberate the resources we need to combat climate change, address food insecurity and achieve the Millennium Development Goals" and other global challenges.
Mr. Ban's remarks come a few weeks before the beginning of the Non-Proliferation Treaty Review Conference being held in May. So "now is the moment to build on that momentum," he insisted.
General Assembly President Ali Abdussalam Treki from Libya also referred to the recent momentum, but stressed the need to address the threat posed by other types of weapons, including conventional ones. "It is also fundamental for the international community to seriously address the production, use, export and import of conventional weapons, including small arms and light weapons," he said, (...) [as they] fuel conflicts every day around the world and constantly threaten international peace and security."
Following the debate, UNGA President Ali Treki met with the President of the Security Council for April, Takasu Yukio of Japan, to discuss important issues on their respective agendas and underlined that the thematic debate on disarmament held in the General Assembly on the same day was significant and timely. For his part, Ambassador Takasu briefed Dr. Treki about the Security Council Open Debate held earlier this month on Post-conflict Peacebuilding. They also discussed the forthcoming Millennium Development Goals (MDGs) summit in September.
The Global Article 9 Campaign welcomes these comments in support of Disarmament for Development and calls on governments to reconsider their spending priorities, reduce their military expenses and reallocate part of their military budget into sustainable development, human security and peace.

DAY OF ACTION FOR A BASE-FREE OKINAWA
On April 25, tens of thousands of people gathered in Okinawa from all over the prefecture, Japan and beyond to call for the early closure of the US Marine Corps Air Station Futenma, the return of the land, and to oppose the construction of an alternative base elsewhere in Okinawa.
This day of action has been called for by a coalition of well-known Japanese individuals, including university professors, authors, artists, lawyers, educators, commentators, musicians and Japanese NGOs.
Media reports estimate that close to 100,000 people convened in Yomitan, Okinawa. Among them figured local leaders and representatives of all major parties, including Okinawa Governor Nakaima Hirokazu, Mayors from Nago, Ginowan and Uruma, as well as Policy Chief of the DPJ's coalition partner Social Democratic Party Abe Tomoko.

Simultaneous actions for a base-free Okinawa were held simultaneously all over Japan (including in Tokyo, where 1200 people gathered for a candle event, Nagoya, Kyoto, Oita, Nagano, Sapporo, Fukuoka, Osaka, Hiroshima, Nagano, and Ueda) and the US (including in Washington D.C., San Francisco and Hawaii) to join voices together with Okinawa in solidarity to oppose new base construction in Okinawa.
The events took place days after rumors claimed the Japanese government would accept the US plan to relocate the Futenma US Air Station to another part of Okinawa, despite earlier indications to the contrary. In fact, during the electoral process that brought the Democratic Party of Japan to power, Hatoyama Yukio had pledged to suspend the relocation plan and suggested the Futenma base should be moved out of Okinawa and even Japan.
Members of the Network for Okinawa, which is made of representatives from US and international peace groups, environmental organizations, faith-based organizations, academia, and think tanks, issued a Solidarity Statement expressing their support to the people of Okinawa and demanding the closure of the Futenma US Marine Base and opposition to any new military base construction in Okinawa and Tokunoshima Island.
In the statement, they "appeal to Prime Minister Hatoyama to keep his promise to the Okinawan people and honor their rejection of any new construction in Camp Schwab." Further, they "call upon President Obama, as the commander-in-chief of the US military, to honor the Okinawan democratic decision to remove the US Futenma Marine base out of their prefecture and their call for no further US military base construction."
US Congressman Dennis J. Kucinich joined his voice to the day of action by issuing a message of solidarity with the Japanese people. In his statement, he announced that he "sent a letter to the Chairman of the Appropriations Subcommittee on Defense, expressing [his] concern over the plan to move the US Marine Corps Air Station in Futenma, Okinawa, Japan to Nago" and reiterated his "support [to] the efforts of the people of Okinawa to ensure that their concerns are heard in the Congress of the United States, and to advocate for the preservation of their land and environment."
At the regional level, the Steering Committee for the Northeast Asia Regional Peacebuilding Institute (NARPI) expresses "its solidarity to the Okinawan people (...) [and] support for their call for peace, demilitarization and respect for the will of the people. In a statement, NARPI referred to Article 9 of the Japanese Constitution as a "viable alternatives to shift from military security to human security" towards "the creation of a demilitarised, sustainable peace for Northeast Asia."
Earlier this month, US for OKINAWA successfully completed a four-day study program in Okinawa to experience firsthand US military bases and their impact on the people and the environment of Okinawa.


Participants to the program were shocked at the large swathe of land the military sites occupy and their proximity to schools and habitations.
Indeed, all of these US bases are surrounded by adjacent facilities - including training grounds, military personnel housing units (many of them standing empty), ammunition storage areas, shopping complexes, clubhouses, golf courses, guest houses, and schools just for US military personnel and their families. They are taking up vast tracts of land and are hardly populated. Meanwhile, the local people squeeze homes and businesses into the remaining free areas and bears with the noise as well as the fear of an aircraft accident occurring in the area, as it happened in Ginowan in 2004.
Participants met with local activists and authorities involved in opposing US bases, and learned about the history of their non-violent struggle. They participated in a peace candle night in front of Camp Schwab, standing up for justice, democracy, peace and environmental sustainability in Okinawa.
Throughout the program, participants voiced their demand to close Futenma and their opposition to its relocation anywhere else inside or outside Japan. Instead, they called for peace and security to be developed through non-militaristic means, including through the creation of an East Asian Community, the establishment of a Nuclear Weapon Free Zone, and the promotion of peace constitutions in the region.
As a positive action aimed at encouraging their governments to replace the US-Japan Security Treaty with a US-Japan Peace and Friendship Treaty, participants decided to initiate a symbolic treaty at the citizen level.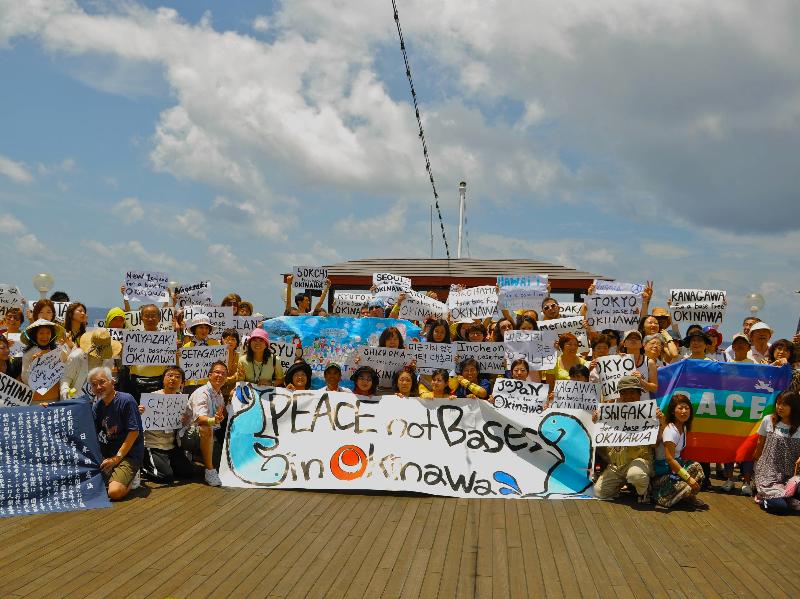 The Global Article 9 Campaign has been working hand-in-hand with the people of Okinawa and the anti-base movement.
For more information about the study program, anti-base initiatives and activities, visit US for OKINAWA's website here.
Read the Solidarity Statement by the Network for Okinawa here.
Find US Congressman Dennis J. Kucinich's statement on his website, here.
Visit the Northeast Asia Regional Peacebuilding Institute (NARPI) website here.

GPPAC'S PEACE PORTAL - A WINDOW TO KYRGYZSTAN'S UNREST
The Global Partnership for the Prevention of Armed Conflict recently launched the beta version of an online Peace Portal as a tool to share and integrate information leading to action aimed at preventing conflict and building peace.
Though still being tested, the beta version of the portal is now online.
The Peace Portal promotes non-violent and peaceful solutions by being impartial, open, accessible, respectful, trustworthy, transparent and supporting freedom of expression.
Though extensive information is already available, the Portal will collect news, maps, and analyzes from diverse sources, notably from civil society on the ground, integrate them and archive them by interests and expertise to make it easily accessible and allow users to interact, discuss, build networks and start communities on specific issues and topics.
The Portal will thus become a platform for civil society and grass root organizations from conflict areas to share information about local developments, as well as about action aimed at preventing conflict and building peace.
As GPPAC was releasing a beta version of the portal, unrest erupted in Kyrgyzstan, thus testing the ability of the Portal to be used to provide ongoing, realtime updates and monitor the political developments in the Kyrgyz Republic.


GPPAC Regional Liaison Officer for Central Asia Samara Papieva who is based at the Foundation for Tolerance International in Bishkek has provided background information about Kyrgyzstan, as well as a timeline of key events and regular status updates. The site also made public a set of recommendations to the Interim Government for the stabilization of the situation put forward by the Foundation for Tolerance International, including for the settlement and prevention of inter-ethnic tensions and improved communication channels at the local and national levels.
Visit the Peace Portal here.
Thank you for your interest in and support for the Global Article 9 Campaign to Abolish War.

Peace,

Newsletter Editor:




Celine Nahory

, International Coordinator
Global Article 9 Campaign to Abolish War / Peace Boat