Organizers

Dear Friends and Supporters of Article 9,

We are pleased to send you some information about the Global Article 9 Campaign to Abolish War's recent activities and related developments.
CALLING FOR A RESOLUTION OF THE INTER-KOREAN CONFLICT BY PEACEFUL MEANS






On November 23, North Korea fired artillery at the island of Yeonpyeong in the Yellow Sea, killing two civilians and two marines. Seoul responded immediately by firing back, and has since announced it will significantly increase its military presence and review its rules of engagement.

Pyongyang and Seoul are blaming each other for the attack and rejecting responsibility for the aggression. North Korea accuses South Korea of provocation for carrying out military exercises. Pyongyang's artillery fire undoubtedly constitutes a disproportionate response and qualifies as an act of aggression. Some consider the situation being the most serious armed conflict since the Korean War.


The island of Yeonpyeong is located in the Yellow Sea where the boundary between North and South Korea has been disputed. Indeed, the Northern Limit Line (NLL) is a controversial maritime demarcation. Unilaterally established by the US-led United Nations force in 1953, the NLL was not included in the armistice agreement and has never been recognized by Pyongyang.

This incident occurred a few days after US nuclear scientists have revealed the existence of a vast new facility to enrich uranium and takes place in a context of tensions that have been exacerbated by the sinking of the South Korean Naval Vessel Cheonan that resulted in the loss of 46 lives last March. This year marks 60 years since the outbreak of the Korean War.

Worldwide condemnations followed the shelling.

While the artillery exchanges have stopped, the situation remains very tense. South Korea and the US have begun military exercises off the Korean coast, in the presence of the US nuclear-powered aircraft carrier USS George Washington. Pyongyang sees the move as yet another provocation and has warned it will retaliate in case its maritime borders are violated.

Many local and international civil society groups have issued statements calling for de-escalation and a peaceful resolution of the situation.

Global Article 9 Campaign's partner People's Solidarity for Participatory Democracy (PSPD) was among the first to react, strongly denounce the situation, and call for "fundamental measures (...) to prevent the vicious circle of armed clashes in the Yellow Sea".

"A military retaliation results another rather stronger military retaliation. Both North and South Korea should put all the efforts not to have further armed confrontations, and they should refrain from making any remarks that could cause further armed conflicts, but they should seek a way to restore a peaceful control of a crisis. Further military confrontation would make both North and South Korea defeated," reads PSPD statement.

As the Japan Lawyers International Solidarity Association (JALISA) points out, "any use of force ... run[s] counter against Article 2 of the Charter of the United Nations" and "[i]ndiscriminate attacks, even if not purposely, against civilian population are clearly in violation of the First Additional Protocol of 1977 to Geneva Conventions of 1949, which is also ratified by DPRK."

In fact, such inter-Korean military confrontation and tensions are of direct concern not just for Seoul and Pyongyang, but also for the whole region and beyond. "The impacts of this artillery exchange and other past conflicts between North and South Korea are not only felt by these two countries but indeed by Northeast Asia as a whole," states the Northeast Asia Regional Peacebuilding Institute (NARPI), which "call[s] upon other civil society groups in Northeast Asia and the international community to raise their voices in concern over this and to advocate for the use of non-violent, non-military approaches."

In addition to an "immediate cessation of hostilities", the International Steering Group of the Global Partnership for the Prevention of Armed Conflict (GPPAC) called for an "investigation to be held into all aspects of the artillery exchange before any judgment or action is made" and for civil society participation in dialogue processes related to this conflict."


In the same spirit, JALISA calls on the UN Security Council to take the "initiative to carry out immediately clarification of any of those facts unidentified yet in the situation and to bring a peaceful solution thereof, as this situation brings about a threat to the peace, which may breed easily confrontations and distrust between the parties."

In a strong statement, 27 South Korean women's organizations declare that "under no circumstances can war be tolerated." This crisis must be managed "peacefully through various channels " they state, and "demand the immediate resumption of dialogue to find a solution to the fundamental cause of such conflicts." These include the resolution to the Yellow Sea dispute finding solutions by peaceful means to the contention surrounding the Northern Limit Line, as well as the pursue of a proper peace agreement as a way to establish peace on the Korean peninsula.

The Global Article 9 Campaign believes in the important role civil society can play in putting forward peaceful and constructive ways of addressing the inter-Korean and regional situation through dialogue rather than military solutions, in order to reach a peaceful resolution to the conflict.

Read the PSPD statement denouncing North Korea firing artillery at Yeonpyeong Island of South Korea here.

Read the call for peace by 27 South Korean Women's Organizations here.

Read JALISA's
Statement on Firing Artillery Issue in Korean Peninsula here.

Read the GPPAC Statement on the Need for Talks to Avoid Escalation of the Crisis on the Korean Peninsula here.

Read NARPI's Response to Artillery Exchange between North and South Korea here.

WORLD SUMMIT OF NOBEL PEACE LAUREATES CALLS FOR NUCLEAR WEAPONS ABOLITION
On November 12-14, the 11th World Summit of Nobel Peace Laureates took place in Hiroshima, Japan.

With this year marking the 65th anniversary of the dropping of the Atomic bombs on the two Japanese cities, Hiroshima Mayor Akiba Tadatoshi invited Nobel Peace Laureates to discuss nuclear weapons under the theme "The Legacy of Hiroshima: a World Without Nuclear Weapons."

Among the attendees figured former South African President Willem De Klerk, former President Mikhail Gorbachev, former President of Poland and leader of Solidarity Lech Walesa, the Dalai Lama, Northern Irish peace activist and Article 9 Campaign supporter Mairead Corrigan Maguire, US leader of the international campaign to ban landmines Jody Williams, Iranian human rights campaigner Shirin Ebadi, former Director General of the International Atomic Energy Agency Mohamed El Baradei, as well as representatives from Laureate organizations including the United Nations, Amnesty International, the International Panel on Climate Change, International Physicians for the Prevention of Nuclear War (IPPNW), the International Peace Bureau, Medecins sans Frontieres, the Red Cross and more.

Some Laureates, like Jody Williams and Mairead Maguire referred directly to Article
9 of Japan's constitution at several occasions. Mairead Maguire thanked "the Japanese people who have shown to the world that it is
possible to move from militarism to peace (...) for the inspiration of
Article 9 in their Constitution, which rejects war and Nuclear weapons."


Others addressed the issue in general terms. For example, President Gorbachev stated "[m]ilitarism, the painful legacy of the twentieth century, which in the past repeatedly brought our planet
to the brink of disaster, must be forever relegated to the past, while the principle of peaceful settlement of disputes must become the imperative norm of international relations."

Calls for disarmament for development were made repeatedly throughout the Summit. Mairead Maguire praised Japan for being a "great model", which, thanks to its peace constitution, "didn't waste money on nuclear weapons and war. It took money for education and health. Real human security is seeing that people can live really human lives. Other countries put money into war instead of into its own citizens." Shirin Ebadi deplored how "resources that should be used for human needs are being use on WMDs." She gave the striking examples of "North Korea, which has nuclear weapons but is not even able to feed its people... [and] India, which possesses nuclear weapons but [where] many people are born on the streets, marry on the streets and die on the streets."

She made concrete proposals for addressing what she calls a "legal vacuum" and made a case for an international convention on the subject. A legal instrument would establish rules such as making sure a country's military budget does not exceed the combination of its national budget allocations to health and education. If it does, the state should not be able to receive foreign aid in any form. Likewise, countries that continue building their army should not have their debt forgiven.

Mayor Akiba Tadatoshi insisted on the "need to divest from war and invest in the citizens."

Seeking to generate support for the ongoing international efforts to eliminate nuclear weapons, Japanese A-bomb survivors (known as Hibakusha) gave testimonies of their experience.

Building on the significance of being in Hiroshima, the Summit issued a Final Declaration calling for nuclear weapons to be regarded "as a crime against humanity" for they are "unique in their destructive power, in the unspeakable human suffering they cause, in the impossibility of controlling their effects in space and time, in the risks of escalation they create, and in the threat they pose to the environment, to future generations, and indeed to the survival of humanity." Nuclear weapons must be outlawed and abolished, concluded the document, as it "call[ed] upon heads of government, parliaments, mayors and citizens to join ... in affirming that the use of nuclear weapons is immoral and illegal."

The declaration further paid tribute to "the courage and suffering of the Hibakusha ... and honour[ed] those that have dedicated their lives to teaching the rest of the world about the horrors of nuclear war."

Peace Boat, which acts as the secretariat of the Global Article 9 Campaign, was invited to attend the Summit. Its director, Yoshioka Tatsuya, seized this opportunity to announce the launch of "Horizon 2012" - a project to be held in 2011-12 onboard Peace Boat that aims to generate civil society support for the realization of a United Nations-backed international conference on the establishment of a Nuclear-Weapons Free Zone (NWFZ) in the Middle East.

Since 2008, Peace Boat has been bringing Hibakusha around the world to share their testimony of the reality of nuclear weapons, and the contemporary significance of their experiences under the "Global Voyages for a Nuclear- Free World: Peace Boat Hibakusha Project". As a continuation of this project, Horizon 2012 will bring Hibakusha throughout the Middle East in order to build momentum for a NWFZ in the Middle East. On stage at the Summit, Yoshioka said: "The time left for Hibakusha to directly share their experiences is very limited. Now is the time for action. By contributing to a Middle East NWFZ, we want to increase the momentum for a NWFZ here in Northeast Asia also." And to the total abolition of nuclear weapons.

This call echoes the pledge made by all Nobel Peace Laureates present at the summit "to work for a future committed to peace, justice and security without nuclear weapons and war."

"Efforts to rid the world of nuclear weapons must proceed along with measures to strengthen international law, demilitarize international relations and political thinking and to address human and security needs," states the Summit's Final Declaration.

Read the full text of the Final Declaration issued at the Summit here.

Visit the Summit's website here.
UPDATE FROM THE NORTHEAST ASIA REGIONAL PEACEBUILDING INSTITUTE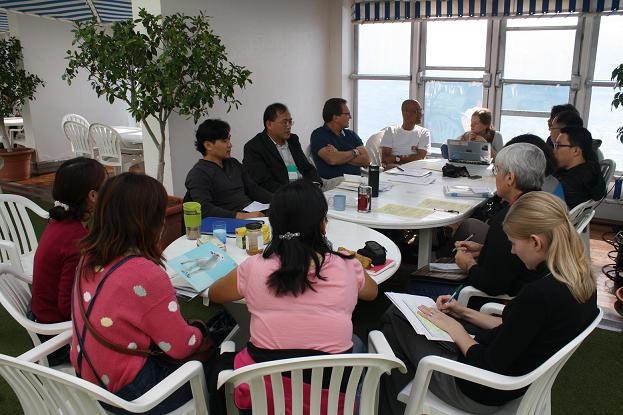 From October 25-30, Northeast Asia Regional Peacebuilding Institute (NARPI) held a steering committee meeting in preparation for the launch of the first intensive NARPI training program starting in August 2011 in Seoul, South Korea.
NARPI is an organization made up of partners throughout Northeast Asia and dedicated to peacebuilding training in the region. It is meant for community leaders, students, NGO activists, professionals, scholars, religious leaders and government officials who are interested in deepening their theoretical knowledge of peace and conflict or sharpening their practical peacebuilding skills.

Starting in August 2011, NARPI will offer three weeks of intensive theoretical and practical courses for peace educators, activities, school teachers and adult students in the field of peacebuilding on topics ranging from peace education, culture and peace, religion, development and the environment, to restorative justice and media and peacebuilding.

The first training program will offer practical courses in a range of fields such as peace education, trauma healing, conflict transformation, media, historical perspectives, and environmental issues. It will also include training for nonviolent resolution of disputes, and peaceful alternatives for security and reconciliation in Northeast Asia, based on existing precedents, notably Article 9 of the Japanese Constitution.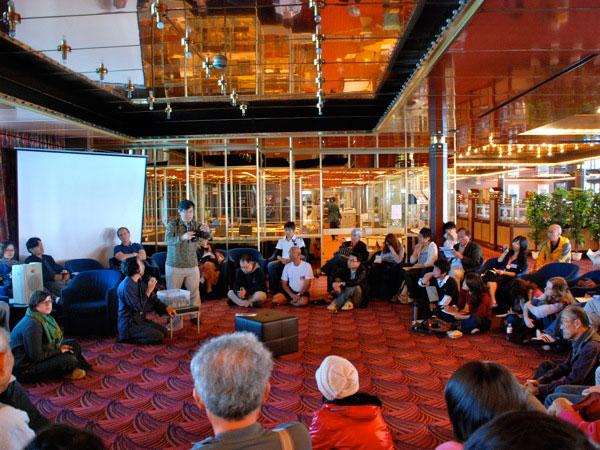 In addition to its steering committee meeting, discussions, lectures, and workshops were held onboard Peace Boat, including a workshop for participants studying in Peace Boat's Global University program.

NARPI founder Lee Jae Young from South Korea spoke of his time serving his national duty of military service watching North across the demilitarized zone between the two Koreas and how he realized that peace would not be restored through force. He emphasized how participants need to take ownership of the peace process. "Building peace between our nations is a matter of restoring dignity."

For her part, NARPI steering committee member Wang Ying from China addressed the current tensions between Japan and China and insisted focus needs to be placed on individual relationships, as peace grows from personal interactions more than from governments' decisions. "NARPI is the best chance ever for me to do peace work with people from other countries."

To learn more about NARPI, visit its website here.

PARTICIPATE IN THE GLOBAL DAY OF ACTION ON MILITARY SPENDING

A couple of month ago, we announced the launch of a campaign towards a global day of action on military spending (GDAMS).
As a co-sponsor of the initiative, the Global Article 9 Campaign today invites you to join the efforts to contribute building a momentum towards it, participate in the debate on the costs of military spending and call for disarmament for development.
Co-sponsors inform the global debate by bringing their own perspective, following with their own approach, while linking it to the common focus of calling for a shift from the military to other priorities.
One of the crucial dimensions of this campaign is to build an international network of people and organizations working on the issue. Endorsers include: War Resisters International, Religions for Peace, PSPD, Peace Network, Peace Boat, Peace Action, Pax Christi International, PANA, National Priorities Project, Granny Peace Brigade, Global Article 9 Campaign, Global Action to Prevent War, Code Pink, Fellowship of Reconciliation, and more.
The day of action will take place on April 12, 2011 so as to coincide with the publication of the Stockholm International Peace Research Institute (SIPRI) data on 2011 military expenditure. Events are already planned in a dozen of countries, such as China, Uganda, South Korea, Japan, the Philippines, Switzerland, Greece, Ireland, India, Indonesia, Kenya, Malaysia, Belgium, and the United States.
To read more about the GDAMS initiative, visit its new website here and read the first edition of its newsletter here.

You can also contact Colin Archer at IPB or John Feffer at IPS.
ARTICLE 9 HONORED IN TELDE, LAS PALMAS IN SPAIN

Telde is the second largest city on the Canary Islands, Spain located between the European continent and the northwest coast of Africa. One of Christopher Columbus' ports on his first trip to the Americas in 1492, Telde has reflected on history, war and peace.

In the 1980s, a strong civil movement organized itself to call for the closure of US military bases in Spain. As the country was joining NATO, the city opposed the move by declaring itself a nuclear-free zone.

In 1996, with the support of both government and opposition parties, Telde inaugurated the Hiroshima Nagasaki Square. Located near the city's Secondary Education Center, which includes peace, solidarity, mediation and conflict resolution in its curriculum, the Hiroshima Nagasaki Square is a statement in favor of youth education for peace and for a nuclear-free world.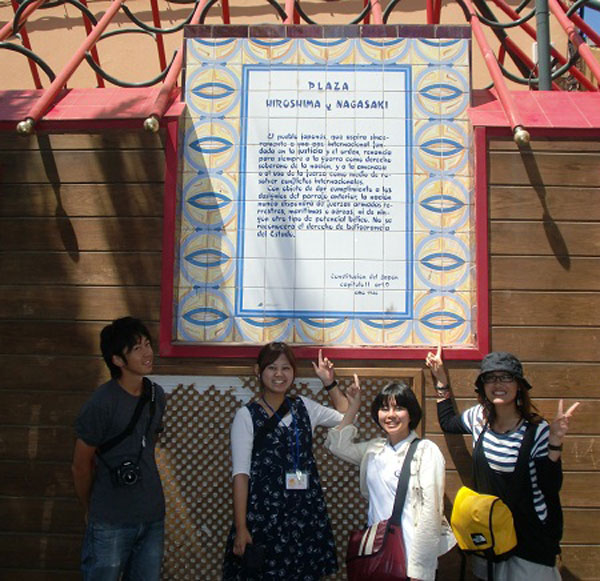 Inside the park stands a monument honoring the Japanese Constitution's renouncement to war and and its prohibition of the maintenance of any war potential. The full text of Article 9 is inscribed in Spanish.

In 2008, Telde joined Mayors for Peace - an initiative launched by the mayor of Hiroshima by which cities work at raising international public awareness regarding the need to abolish nuclear weapons and contribute to the realization of genuine and lasting world peace. As of October 1, 2010, membership stood at 4,207 cities in 144 countries and regions.

Picture credit: Peace Boat. A group of Japanese youth poses in front of the monument dedicated to Japan's peace constitution.
Thank you for your interest in and support for the Global Article 9 Campaign to Abolish War.

Peace,

Newsletter Editor:




Celine Nahory

, International Coordinator
Global Article 9 Campaign to Abolish War / Peace Boat