Organizers

Dear Friends and Supporters of Article 9,
We are pleased to send you some information about the Global Article 9 Campaign to Abolish War's recent activities and related developments.
ON HUMAN SECURITY
AND
NATURAL DISASTERS
On April 14, the UN General Assembly held its fourth Informal Thematic Debate on Human Security, during which the need for holistic "people-centred" responses to world crises was discussed.

The debate took place just a few weeks after the unprecedented triple disaster that hit Japan in March and reminded the world that the unpredictability and force of nature rank among the biggest threats to human security.

The fact that a highly developed country like Japan - known to be Asia's best example for disaster preparedness and technological capabilities for predicting, monitoring and dealing with frequent earthquakes, as well as a key proponent of a Human Security approach - is struggling to manage disaster relief operations and mitigate the subsequent nuclear crisis, has led some to question how the Human Security framework is relevant to prepare for, and respond to natural disasters.

The UN University in Tokyo also held a workshop on Human Security and Natural Disasters this month, with experts from academia, NGOs, government and UN agencies, to analyze how a human security approach can be applied, and identify policy recommendations and avenues for the future.

During this month's debate and panel discussions at the UN, Member States considered how to define human security beyond the outline agreed at the World Summit in 2005. Indeed, discussions on Human Security have so far essentially focused on war, development and human rights, based on the three pillars of "the freedom from fear, the freedom from want and the freedom to live in dignity."
Yet, today's immense human suffering caused by natural disasters (with 200 million people around the world affected by natural disasters last year alone) calls for a broader definition of Human Security that would include natural disasters as a possible fourth pillar.
Based on his deep involvement in the recovery process of Japan's most affected area, Human Security Advisor to the UN Secretary General Takasu Yukio emphasizes the importance of human dignity along with basic human needs, and insists on the need to agree on a common understanding on what Human Security means and entails. Negotiations towards a UN resolution are expected to start this coming May.
Indeed, as part of the UNGA discussions, some delegations warned against replacing the concept of development by the one of Human Security, expressed concerns about possible linkages with the concept of responsibility to protect, and rejected the use of force in relation to Human Security.
Though comments on the use of force were not directly related to disaster relief operations, concerns over resorting to the military in this context are also relevant, and in fact have been raised in the current Japanese context.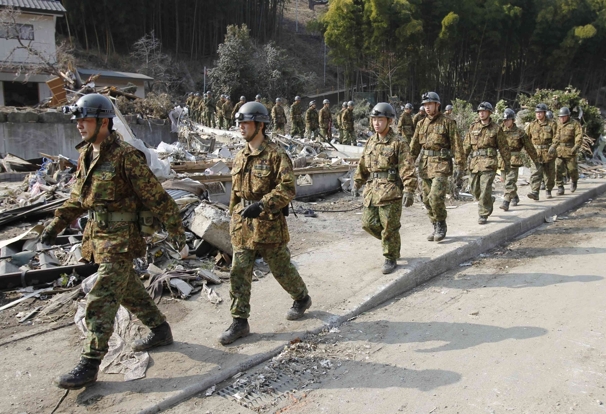 Indeed, while disaster response is generally seen officially as a civilian responsibility, military forces often take the lead in case of large scale disasters, due to their great organizational capability and ability to react promptly. Like in the 1991 cyclone in Bangladesh, in the US in the wake of 2005 Hurricane Katrina or in the aftermath of the earthquake in Sichuan, China in 2008, Japan has been relying on its military at a level unseen since the Second World War with more than 100,000 of its Self-Defence Forces (SDF) - or 40% of its total military - deployed.

In light of the growing trend for military engagement in relief activities, and though it is more contentious in conflict settings and in the case of foreign military involvement in relief activities, voices, such as the one of the ICRC, are being raised to caution that this trend tends to "blur the lines between humanitarian and military actors [compromising] the neutrality and independence, restricting humanitarian access and increasing security risks" and to call for the maintenance of a clear distinction between the respective roles of military bodies and humanitarian actors.*

While some politicians and analysts have chosen to highlight the role played by the SDF in disaster relief for political ends, the current situation has on the contrary made clear that SDF alone cannot do much without the crucial assistance of local civilian authorities, community-based workers and volunteers playing a vital role. The tragic situation has also served as a bleak reminder that the military is powerless stop threats such as the one currently posed by nuclear reactors, thus bringing people to question whether SDF can really defend the people when it needs it the most and wondering what they have thus been trained for, in light of the country's pacific constitution that renounces war as a means of settling international disputes and prohibits the maintenance of armed forces and other war potential.

On April 21, the Japan Confederation of A- and H-Bomb Sufferers Organization, Nihon Hidankyo, submitted a petition to the Japanese Government in which they demand that the concept of protecting people through military means be replaced by comprehensive health care and monitoring systems, as well as a major transformation of energy policy from reliance on nuclear energy to renewable energy, as nuclear energy and technology represent a man-made hazard that come in the way of preparedness and safety precautions. They also notably urge the government to "discard the notion that military might can secure Japan's safety, adhere to Article 9 of the constitution, and commit to human co-existence through the prioritization of peaceful and safe diplomatic policies."

In light of the lessons learned from the current disaster in Japan and the current debate on Human Security, the Global Article 9 Campaign joins its voice to call for a shift of priorities - from military defense to people-centered human security; from buying weapons to preventing disasters; and from expanding armed personnel to training community workers.

Fore more information about the UN General Assembly Informal Thematic Debate on Human Security here.

More information about the UNU Expert workshop on human security and natural disasters can be found here.

Read the full Japan Confederation of A- and H-Bomb Sufferers Organization (Nihon Hidankyo)'s petition here.
Picture credit: Toru Hanai/Reuters
NEWS FROM JAPAN AND BEYOND: GROWING OPPOSITION TO NUCLEAR ENERGY
Shoso Hirai was 16 years old in 1945 when he witnessed the atomic bombing of Hiroshima that took his father and brother's lives, as well as his mother's a few years later. He is now 81 and in the wake of the Fukushima disaster, he believes he has been deceived by the prospects of peaceful nuclear energy.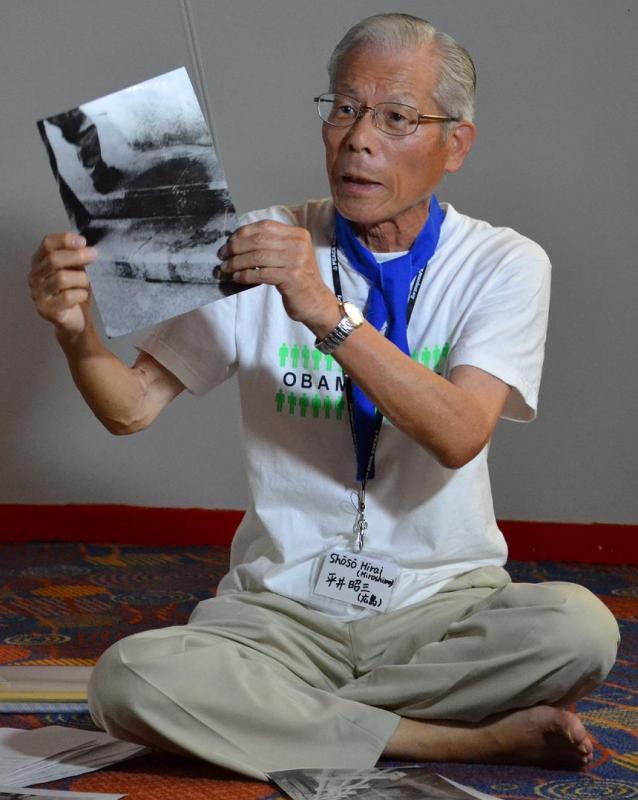 "I feel betrayed. We have always been told that nuclear energy was clean and safe. Until Fukushima, I had nothing against nuclear energy. Today, in light of the risks of radiation, I believe we must give it up."
"Atomic bombs and nuclear power use the same technology, and it is a very dangerous technology," he said. "I think the Japanese government should change their policy on nuclear power and provide a safer environment in which people can live."
Shoso Hirai is one of the Hibakusha designated as Special Communicators for a World without Nuclear Weapons by the Japanese Government.

Mr Hirai and eight other Hibakusha traveling on Peace Boat's 72nd Global Voyage for Peace, gave testimonies in 13 countries around the world and participated in meetings, such as an event co-organized by Peace Boat and the Japanese Government Disarmament Delegation at the United Nations Headquarters in Geneva and a Conference for a Nuclear Weapon Free Middle East. They also worked with Tahitian former nuclear-test-site workers and Australian Aborigines protesting against uranium mining and together recognized themselves as Global Hibakusha-victims of radiation of the nuclear age--and called for a nuclear-free future.

Opposition to nuclear power in Japan has grown since the March 11 disasters and subsequent state of emergency in Fukushima, as many people who had always been ensured nuclear power was safe, are now realizing how dangerous it in fact is, in a country with 54 functioning nuclear plants and frequently subject to seismic activities.


On April 10, about 17,500 people took the streets of Tokyo to demand that the Japanese government stop its reliance on nuclear power. Several demonstrations were also held in other cities around Japan, notably in Osaka where some 3000 people came together.

At the global level, on the eve of the 25th anniversary of the Chernobyl nuclear disaster and in light of the ongoing Fukushima accident, UN Secretary General Ban Ki-Moon underlined the fact that Chernobyl and Fukushima demonstrated "nuclear accidents respect no borders... [and] pose direct threats to human health and the environment."

"How can we ensure the peaceful use of nuclear energy and maximum safety? We need a global re-think on this fundamental question," he stated at a Summit on the Safe and Innovative Use of Nuclear Energy in Kiev, Ukraine.

After Chernobyl and Fukushima, "it is time to recognize that nuclear power is not a clean, safe or affordable source of energy," stated nine Nobel Peace Laureates in an open letter sent to 31 heads of state whose countries are currently heavily invested in nuclear power production, or are considering investing in nuclear power to call for safer forms of renewable energy.

"We firmly believe that if the world phases out its current use of nuclear power, future generations of people everywhere--and the Japanese people who have already suffered too much--will live in greater peace and security."

Read Shoso Hirai's interview with Swiss Newspaper "Le Matin" here. [French]

Read UN Secretary General Ban Ki-Moon's Statement at the Summit on the Safe and Innovative Use of Nuclear Energy in Kiev, Ukraine here.

Read the Nobel Peace Laureates Open Letter to World Leaders here.
Photo credits: Top: Peace Boat. Down: Associate Presse
HORIZON 2012: INTERNATIONAL STRATEGY MEETING TOWARD A NUCLEAR WEAPON-FREE ZONE IN THE MIDDLE EAST

On March 19-23, Peace Boat, the global network Parliamentarians for Nuclear Non-proliferation and Disarmament (PNND) and Global Partnership for the Prevention of Armed Conflict (GPPAC) co-sponsored the first meeting of Horizon 2012: Sailing in the Same Boat Toward a Nuclear Weapon-Free Zone in the Middle East.

The launch of the Horizon 2012 Project was announced by Peace Boat at the 11th World Summit of Nobel Peace Laureates in November 2010 in Hiroshima, Japan. The project has since received positive feedback and support from regional and global actors, including high profile international figures such as Nobel Peace Laureates Mairead Maguire and Jody Williams, as well as former Head of UNMOVIC and Chair of the Weapons of Mass Destruction Hans Blix.

Horizon 2012 seeks to build upon the decision by the 2010 NPT Review Conference to convene an international conference in 2012 on the establishment of a Nuclear-Weapons Free Zone in the Middle East and aims at building confidence and understanding within the region of the value of such a conference and the concrete possibilities and benefits offered by a future Middle East Nuclear-Weapons Free Zone (MENWFZ).

To pursue these goals, this international multi-track diplomacy project seeks to raise awareness on the value of such process, build confidence, and facilitate dialogue, thus improving the chances of success in the UN 2012 Middle East Conference on the establishment of a MENWFZ.

Horizon 2012's first meeting took place in a context of major political changes in the Arab world, as well as in the midst of the nuclear disaster unfolding in Japan and subsequent debate over its implication on nuclear energy.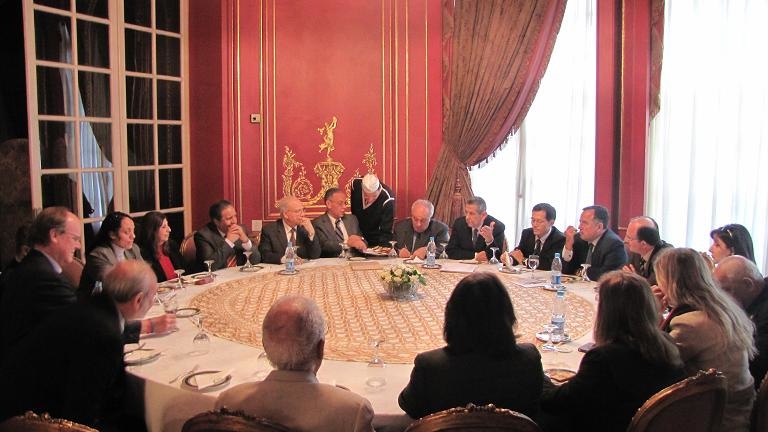 The meeting brought together some 15 civil society participants from Egypt, Israel, Jordan, Lebanon, the Palestinian Territories, Turkey, Japan and Europe, as well as UN representatives, parliamentarians, former military officials, A-bomb survivors of Hiroshima and Nagasaki and international disarmament experts onboard Peace Boat, as the ship was traveling between Greece, Turkey and Egypt. (Unfortunately, the Iranian delegate confirmed to participate was unable to attend at the last minute due to bureaucratic problems.)

Conference participants together identified regional opportunities and challenges in each of the above-mentioned countries as well as for the region as a whole, and made concrete proposals regarding the project's plan of action, activities and outreach.

The Horizon 2012 Strategy Meeting was followed by a roundtable discussion organized by the Egyptian Council of Foreign Affairs, co-sponsored by Egyptian Pugwash for Science and International Affairs, the School of Public Affairs at the American University in Cairo, and Peace Boat, which was held at the Diplomatic Club in Tahrir Place in Cairo on March 23, 2011.

The event, entitled "Forum on the launching of Horizon 2012 project: the way towards the 2012 Conference on the Middle East", was attended by diplomats, academics, professionals and military experts, as well as representatives from international and regional organizations, who held a general discussion and debate about the significance and possibilities for a MENWFZ.
Read a preliminary report of the meeting on Peace Boat's website here.
Also read some media coverage in Haaretz (Israel) here.
GLOBAL DAY OF ACTION ON MILITARY SPENDING A SUCCESS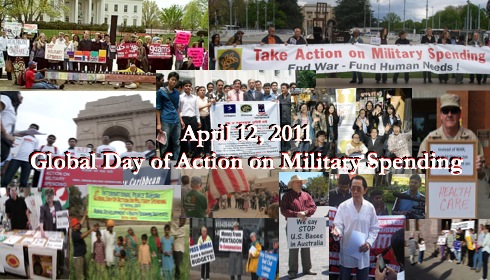 On April 12, 2011, the Institute for Policy Studies and the International Peace Bureau hosted the first ever Global Day of Action on Military Spending (GDAMS).
It coincided with the annual release of the Stockholm International Peace Research Institute (SIPRI)'s figures on global military spending that revealed that in 2010, world military expenditures reached a record high of over $1.6 trillion - an increase of 1.3% in real terms over 2009, and of 50% since 2001.
GDAMS aims to promote global awareness of the skyrocketing budgets spent on the military rather than on promoting peace and human development and to expose the global failure to fulfill governments' pledges of the UN Millennium Development Goals (MDG). With five years to go, the international community will not be able to meet the deadline for the MDGs without a substantial reordering of economic priorities.
Events were organized by some 1000 organizations in 35 countries around the world. Actions included a protests in front of the White House in Washington D.C. (US), the Treasury in London (UK), the Ministry of Defense in Bangkok (Thailand) and in the forecourt of the Department of Defence buildings in Canberra (Australia); actions at the United Nations in New York and Geneva; a march in Kampala (Uganda); a peace rally in Dhaka (Bangladesh); workshops and village rallies in Dobari Khota (India); leaflets distribution in Medellin (Colombia) and Manchester (UK); fora in Seoul (Korea), Puerto Rico, Oslo (Norway) and Nagpur (India); a sit-in to stop the construction of a new US military base in Okinawa (Japan); a visit by Japanese survivors of the A-bomb in Hiroshima and Nagasaki to the Office of the Presidential Advisor to the Peace Process in Manila (Philippines); and many more grassroots and policy actions around the world.
On the occasion of the Global Day of Action on Military Spending, UN High Representative on Disarmament Ambassador Sergio Duarte called "on governments to consider the full possibilities of creating security through non-military means. Decent health care and a good education for all, providing confidence in one's future."
"The Global Day of Action on Military Spending should serve as a catalyst for shifting global and national priorities from massive military spending to creating human security and safety for all."
From letters to members of Parliaments to vigils and artistic performances, GDAMS events significantly contributed to building an international network around this issue and encouraged many to get involved.
Find reports and pictures about GDAMS events and get involved in the campaign here. Stay tuned for a soon to be released GDAMS detailed report!
Read UN High Representative on Disarmament, Ambassador Sergio Duarte's statement here.
Visit SIPRI's website for more information on military expenditure data for 2010 here.
PUBLICATION: JAPANESE CONTRIBUTION TO THE HUMAN RIGHT TO PEACE
style="font-size: 10pt; margin-top: 0px; margin-bottom: 0px;">As part of the Global Campaign on the Human Right to Peace, key members of the Global Article 9 Campaign, Secretary General of Japan Lawyers International Solidarity Association (JALISA) Sasamoto Jun and Director of the Japanese Association of Democratic Lawyers Maeda Akira have published a new book on the topic entitled "Human Right to Peace - Making the UN Declaration".
Aimed at raising awareness among Japanese people on the need and value of establishing a new international right of people to peace, the book draws parallels between the international campaign calling for the codification of the Human Right to Peace into a Universal declaration on the Right to Peace and Article 9 of Japan's Constitution.

In January 2011, Japanese civil society established a Japanese Committee for the International Campaign on the Human Right to Peace to inform the debate and support efforts being made at the United Nations - notably at the UN Human Right Council - toward the adoption of a UN Declaration on the Rights to Peace.

Japan, strong of its pacific Constitution with its preambule and Article 9, which create a precedent in setting a justiciable right to peace at the national level through obligations of the state to the Japanese people as well as a right of Japanese people towards the state.

Visit the blog [Japanese only] of the Japanese Committee for the International Campaign on the Human Right to Peace here.

More information [Japanese only] about the book "Human Right to Peace - Making the UN Declaration" here.

Read more about the International Campaign on the Human Right to Peace here.
Human Right to Peace - Making the UN Declaration"
Table of Contents:
Introduction
NGO Movement for the Declaration on the Right to Peace
By Maeda Akira
World Campaign for UN Declaration on the Human Right to Peace
By the Spanish Society for International Human Rights Law
Pacifism of Preamble of the Japanese Constitution
By Shimizu Masahiko
How the Peace Movement Got the Right to Live in Peace
By Kawaguchi Hajime
Human Right to Peace Around the World: A report from the Santiago Council
By Sasamoto Jun
The Right to Live in Peace in the Era of the International Criminal Tribunal
By Niikura Osamu
Side Events for the Right to Peace at the UN Human Rights Council
By Shiokawa Yorio
Peace Zone and the Right to Live in Peace
By Maeda Akira
UN Human Rights Council Resolution 14/3: Promotion of the right of peoples to peace
Santiago Declaration on the Human Right to Peace
Thank you for your interest in and support for the Global Article 9 Campaign to Abolish War.

Peace,

Newsletter Editor:




Celine Nahory

, International Coordinator
Global Article 9 Campaign to Abolish War / Peace Boat