Organizers

Dear Friends and Supporters of Article 9,
We are pleased to send you some information about the Global Article 9 Campaign to Abolish War's recent activities and related developments.
NEWS FROM JAPAN: NODA YOSHIHIKO ELECTED PRIME MINISTER - IMPLICATIONS ON THE ARTICLE 9 DEBATE
On August 29, Noda Yoshihiko was elected President of the ruling Democratic Party of Japan (DPJ), thus set to become the third DPJ Prime Minister since the party came to power in August 2009.

Japan's Prime Minister Kan Naoto announced his resignation on August 26, amidst criticism of his handling of the March 11 earthquake, tsunami, and ongoing Fukushima Daiichi nuclear disaster, as well as what is considered to be the biggest debt crisis in the industrialized world. Kan faced a no confidence vote in June, when he pledged to resign once Parliament passed a legislation promoting renewable energy.

In politics since 1987, Noda Yoshihiko joined the DPJ in 2000 and served as Finance Minister in Kan's cabinet in 2010-2011. His election platform has been based on getting the Fukushima nuclear power plant under control and restoring Japan's fiscal balance. A fiscal conservative, Noda is an advocate of tax increase to curb the country's debt and finance the country's reconstruction. Qualifying his policies as "reasonable" and "realistic", he wants to restart Japan's nuclear reactors and does not support his predecessor's vision of a nuclear-free Japan (though he is in favor of reducing Japan's reliance on nuclear power).

Known as a strong supporter of the US-Japan security alliance, Noda considers US-Japanese ties as the "very foundation" of Japan's foreign and security policies. Expressing concerns over China's military buildup, which he describes as the "greatest cause for worry in the (Asian) region", Noda favors a tough approach towards China.

Upsetting Japan's neighbors, Noda has repeatedly made controversial statements on Japanese A-class war criminals, denying that the country's wartime leaders were "criminals" and defending Japanese politicians' visits to the Yasukuni Shrine - the controversial war memorial that honors those killed in the service of Imperial Japan, including World War II war criminals, seen as a symbol of Japanese militarism.

The son of a Japan Ground Self Defense Forces career soldier, Noda stated in 2002 (then as an opposition politician) that Japan should get rid of Article 9 of the Japanese Constitution, which renounces war as a means of settling international disputes and prohibits the maintenance of armed forces and other war potential. If not, he added, Article 9 should at least specify that Japan's SDF has military capability.
Photo credit: Reuters
2011 HIROSHIMA AND NAGASAKI PEACE DECLARATIONS REFER TO JAPAN'S PEACE CONSTITUTION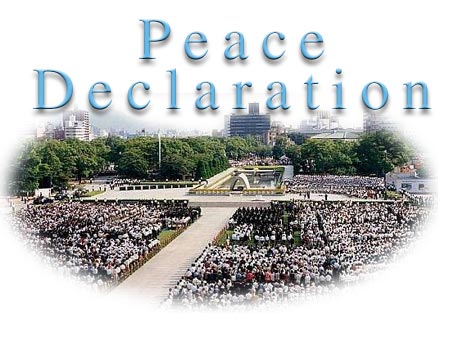 On August 6 and 9, Hiroshima and Nagasaki commemorated the atomic bombings on their cities 66 years ago.

In their traditional Peace Declarations, the mayors of both cities made reference to Japan's peace Constitution, as they reiterated their appeal for the lasting peace of a world free from nuclear weapons.

Both Hiroshima Mayor Matsui Kazumi and Nagasaki Mayor Taue Tomihisa called upon the international community, and nuclear weapons states in particular, to pursue their efforts towards the conclusion of the Nuclear Weapons Convention that aims for complete abolition of all nuclear weapons. Mayor Taue also urged "once again that the Japanese government act in accordance with the ideals of peace and renunciation of war prescribed in the Japanese Constitution."

Japanese Prime Minister Kan Naoto, in his address at the Hiroshima Peace Memorial Ceremony, pledged "Japan, the only country to have experienced nuclear devastation in war, will observe its Constitution and firmly maintain the Three Non-Nuclear Principles for the sake of the ultimate elimination of nuclear weapons and the realization of eternal world peace."

Referring explicitly to the country's "ideals of peace and renunciation of war prescribed in the Japanese Constitution", Taue went a step further, calling upon the government codify into law Japan's policy of prohibiting the country from possessing, producing, or permitting the introduction of nuclear weapons into its territory.

Mayor Taue further demanded that the Japanese government work to establish a "Northeast Asian Nuclear Weapon-Free Zone to ensure complete denuclearization of Japan, South Korea and North Korea." Mayor Taue's initiative has received the support of 104 mayors throughout Japan, who believe the move is "urgent and timely" in order to not only strengthen "the global tide toward a Nuclear Weapon Free World", but also towards "achieving regional stability and peace in Northeast Asia."

This year's ceremonies in Hiroshima and Nagasaki took place in the context of the aftermath of the Great March 11 Earthquake and the ongoing nuclear crisis in Fukushima. In a shift of position towards nuclear energy, the two A-bombed cities have extended the plea for "No More Hibakusha!" to victims of radiation including from nuclear energy, and called for a review of Japan's energy policies away from nuclear power.

Mayor Taue of Nagasaki challenged "the myth of the safety of nuclear power plants" and called for "the development of renewable energies in place of nuclear power in a bid to transform ourselves into a society with a safer energy base."

For his part, Mayor Matsui of Hiroshima stated: "From the common admonition that 'nuclear energy and humankind cannot coexist,' some seek to abandon nuclear power altogether. Others advocate extremely strict control of nuclear power and increased utilization of renewable energy. The Japanese government should humbly accept this reality, quickly review our energy policies, and institute concrete countermeasures to regain the understanding and trust of the people."

A day earlier, on August 5, some 200 leading nuclear abolitionists from all over the world gathered in Hiroshima for the 2011 World Conference against A & H Bombs during which they heard powerful testimonies about the Fukushima catastrophe, discussed the need to replace nuclear power with sustainable energy, and called for the urgent total abolition of nuclear weapons. The final declaration of the international meeting called on the people of the world to "root out any more damage and suffering from radiation."

"Noting the link between nuclear weapons and nuclear power generation," the declaration "demand[ed] an end to the reliance on nuclear energy and a shift to renewable energy sources."

As Fukushima haunts Japan and the world, the 2011 Peace Declarations mark an important policy shift and bring a new dimension in Hibakusha's advocacy for a nuclear-free world.

Read the full text of the Hiroshima and Nagasaki 2011 Peace Declaration here and here.

Read Kan's address in Hiroshima here.

Read the Statement of Support for a Northeast Asia Nuclear Weapon Free Zone endorsed by 104 Mayors in Japan here.

Read the 2011 World Conference against A & H Bombs: Final Declaration of the International Meeting here.
Image credit: Hiroshima Peace Site
COLOMBIA - DISCUSSION ON ARTICLE 9 IN THE LATIN AMERICAN CONTEXT
On August 18, representatives of the Global Article 9 Campaign held a discussion at EAFIT University in Medellin, Colombia as part of school's "Asian Week" program.

With a mission to contribute to the country's social, economic, scientific and cultural development through a framework of ideological pluralism and scientific and applied research carried out in permanent interaction with the private sector, government and academia, EAFIT University's Asian-Pacific Institute provides different studies and programs about Asia and its relations with Latin America.

Held every year, "Asian Week" offers lectures, movies, exhibitions and other activities.

Some 25 students and faculty attended a discussion introducing the Japanese peace constitution and the Global Article 9 Campaign, as well as its relevance in the Latin American context.

The event highlighted different perspectives on the debate around Article 9, which renounces war as a means of settling international disputes and prohibits the maintenance of armed forces and other war potential.

Interesting discussions and interactions took place, notably questions on whether Japan's Article 9 can really be considered a "peace" clause or is just a "no war" constitution, as well as debate on themes such as idealism and reality, reliance on the military, and the role constitutions can play as a peace mechanism.

Colombia's constitution, through its Article 22, establishes that "peace is a right and duty whose compliance is mandatory."

In the Latin American region, several countries' constitutions also include the value of peace, including those of Argentina, Brazil, El Salvador, Honduras, Nicaragua, Paraguay and Peru. Bolivia's Article 10.1 recognizes the country as a "pacifist state" promoting a culture of peace, while others such as Costa Rica and Panama include non-military clauses.
PEACEBUILDING: NARPI HOLDS ITS FIRST SUMMER TRAINING PROGRAMME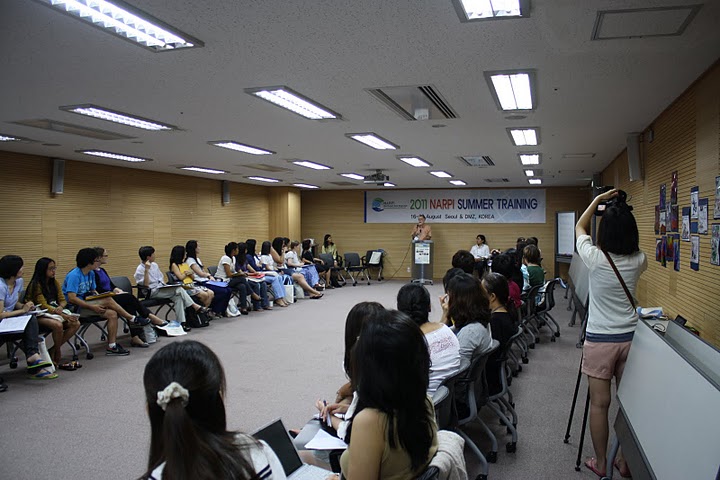 The first ever Northeast Asia Regional Peacebuilding Institute (NARPI) Summer Training programme was held in Korea between August 16-28, 2011. The two-week training aimed to not only equip participants with peacebuilding skills for their work, but also help to connect organizations and communities from across the region and beyond. The 50 participants hailed from Canada, China, Hong Kong, India, Japan, Korea, Mongolia, the Philippines, Russia, Taiwan, and the United States.

Jae Young Lee, NARPI Director and long-time supporter of the Global Article 9 Campaign to Abolish War, saw the need for this training considering that "Northeast Asia has a long history of military exercises, but a rather short history of peace education. In this region, peace education, conflict resolution/transformation, and frameworks for conflict prevention are still new terms. Therefore NARPI is a small but important effort to transform the culture of militarization into a culture of peaceful coexistence and cooperation as a region."

A committee made up of various organisations throughout Northeast Asia, including Peace Boat (Secretariat of the Global Article 9 Campaign to Abolish War), have been preparing for several years for this training. Other organisations involved in coordinating NARPI include the Korean Anabaptist Centre (Administration of NARPI), the Mennonite Central Committee, the Global Partnership for the Prevention of Armed Conflict (GPPAC), Blue Banner, Korea Peace Foundation, Maritime State University, Peace in China, Taiwan Grassroots Alliance for Peace, Transcend Japan and World Friendship Center.

Participants selected from one of three courses each week, on themes such as conflict analysis, peace education, restorative justice, historical and cultural Stories of peace in Asia, trauma awareness and response, and mediation and dialogue. They also joined a field trip to the House of Sharing (houseofsharing.org), both a museum and home to former "Comfort Women" - survivors of sexual slavery at the hands of the Japanese military during the Asia-Pacific War (1932-1945), and a tour of the DMZ area near Inje and exchange with villagers living inside the Civilian Control Zone.

Although held for the first time, this program provided an invaluable experience for practitioners, teachers, NGO workers, journalists and students from throughout the region to learn from each other and deepen their knowledge and skills in regards to nonviolent peacebuilding, within the Northeast Asian context. It will be held annually, rotating through different parts of the region each year.

For additional information please NARPI's official website here or email NARPI at admin (a) narpi.net.
Photo: NARPI
Thank you for your interest in and support for the Global Article 9 Campaign to Abolish War.

Peace,

Newsletter Editor:




Celine Nahory

, International Coordinator
Global Article 9 Campaign to Abolish War / Peace Boat