Organizers

Dear Friends and Supporters of Article 9,
We are pleased to send you some information about the Global Article 9 Campaign to Abolish War's recent activities and related developments.
UN SECURITY COUNCIL HIGHLIGHTS NEXUS BETWEEN PEACE, SECURITY AND DEVELOPMENT
On February 11, the UN Security Council held a high level open debate on the interdependence between security and development.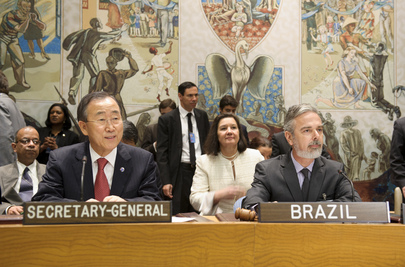 Entitled "Maintenance of international peace and security: the interdependence between security and development", this initiative takes place as part of Brazil's presidency of the UN body this month. The meeting was presided by Brazilian Foreign Minister Antonio Patriota.

Though the nexus between security and development has been recognized since the 1990s, more needs to be done to develop a "comprehensive approach to security - which involves consideration of the root causes of violence, as well as of the social and economic situation on the ground," noted the concept note circulated by Brazil earlier this month in preparation for the debate.

"The idea is not to bring development issues to the Council, but to take a more comprehensive approach to the issues of peace and security, having in mind the fact that many conflicts have an underlying cause that is sometimes related to issues of poverty, social inequality, of illegal exploitation of natural resources, the problem of youth unemployment, and the lack of opportunities especially for the youth," said Brazilian Ambassador Maria Luiza Ribeiro Viotti.

Indeed, to address many of today's conflicts such as those in the Democratic Republic of the Congo and in Haiti, the Security Council needs to take into account the underlying social and economic situation in order to ensure that root causes are understood in UN efforts to prevent conflicts and promote an effective transition towards durable peace and sustainable development. The role played by natural resources in instigating and fueling conflict was highlighted in the context as well.

"Evidence abounds," said UN Secretary General Ban Ki-Moon in his address to the Council. "Nine of the 10 countries with the lowest Human Development Indicators have experienced conflict in the last 20 years. Countries facing stark inequality and weak institutions are at increased risk of conflict."

For his part, Federal Minister for Foreign Affairs and Deputy Chancellor of the Federal Republic of Germany Guido Westerwelle pointed at the fact that "progress towards achieving the Millennium Development Goals has been especially slow in fragile or conflict-ridden countries. No fragile or conflict affected country has yet achieved one of the Millennium Development Goals."

At the institutional level, there is a need for "system-wide commitment by the United Nations" that respects the different roles and responsibilities of the different organs. In this session, the inter-linkages between the Security Council and other UN organs, notably the General Assembly and the Economic and Social Council (ECOSOC), were explored.

Chair of the Peacebuilding Commission Ambassador Eugène-Richard Gasana highlighted the special role the Commission could play in providing a "holistic analysis" of the causes and factors contributing to conflict "in order to allow the Council to adapt its strategies on an ongoing basis and come up with realistic criteria to monitor and assess the progress made towards peacebuilding and minimize the risk of a relapse into conflict."

The Council also reiterated its commitment to strengthening its partnership with regional organizations and other international institutions.

The Council issued a presidential statement re-emphasizing the close link between international security and economic development, and reiterating the need for "a more comprehensive and concerted approach" in order to "consider relevant economic, political and social dimensions of conflict."

The statement highlights the role played by the illegal exploitation of natural resources in fueling conflicts and offered to assist countries prevent illegal access to those resources.

It also recommends "particular focus be given to improved integration of UN effort where peacekeeping missions are operating together with peacebuilding activities of other UN actors."

Read Brazil's concept note here.

Read the UN Security Council Presidential Statement here.

Also read an Update Report by Security Council Report published ahead of the meeting here.
Picture's credit: UN Photo/Mark Garten
THE GLOBAL ARTICLE 9 CAMPAIGN AT THE WORLD SOCIAL FORUM IN DAKAR, SENEGAL

The 11th edition of the World Social Forum was held in Dakar, Senegal from February 6-11, 2011, on the campus of the University Cheikh Anta Diop.

About 50,000 people participated in the opening parade.

Civil society organizations and social movements from all over the world organized over 300 different activities daily, including panels, conferences and workshops during which participants exchanged experiences, good practices, networks and plans for action.

Several international personalities were present, including Ignacio Lula Da Silva (former president of Brazil), Evo Morales (president of Bolivia), Martine Aubry (first secretary of the French Socialist Party) and more.

For the third time, the Japan Lawyers International Solidarity Association (JALISA) sent a delegation to the Forum to represent the Global Article 9 Campaign, share the global value of Article 9 of the Japan's Constitution and promote its relevance at the international level.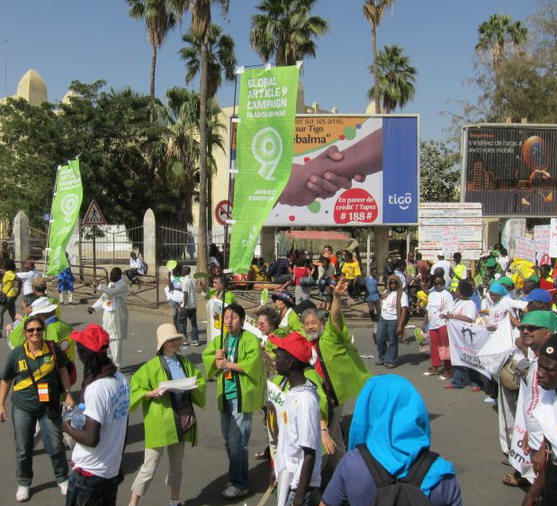 Wearing traditional Japanese "happi" uniforms, about 15 representatives of the Global Article 9 Campaign distributed information leaflets about Article 9 and fans on which the full peace clause could be read.

They received great support and a lot of encouragement from people from all over the world.

A member of an environmental NGO from Mauritania said: "Mauritania is a country on the crossroads between Arabic Africa and Black Africa. Peace and security is necessary for Africa. I hope that peace constitutions such as Japan's Article 9 will be spread around the world."

An NGO member from Uganda said: "Though Japan has the ability to produce nuclear weapons, it maintains non-nuclear principles, although North Korea has developed nuclear weapons. Japan's no nuclear policy is very important for East Asian peace."

The threat of amending the peace clause may be less acute than a few years ago, yet the debate continues to be present in the Japanese political sphere, especially over the interpretation of the Japanese Constitution. International support for Article 9 is of great importance for the Japanese domestic movement and for the inclusion of peace clauses in constitutions around the world.
GLOBAL HIBAKUSHA FORUM - PACIFIC
From January 23- February 5, a group of Hibakusha from Japan, Australia and Tahiti came together on Peace Boat from Yokohama, Japan to Papeete, Tahiti as part of its fourth Global Voyage for a Nuclear Free World.

By fostering interaction between Japanese Hibakusha (atomic bomb survivors) and other people affected by nuclear weapons around the world, the project aimed to bring together people affected by all stages of the nuclear fuel cycle, increase understanding between Japanese Hibakusha and people around the world affected by uranium mining and nuclear testing, and deepen activities in solidarity for the creation of a nuclear-free world.


The group was composed of 9 A-bomb survivors from Hiroshima and Nagasaki appointed by the government of Japan as "Special Communicators for a World Without Nuclear Weapons", a delegation of Tahitians fighting for the rights of nuclear testing victims, Australian Aboriginal women from uranium mining affected areas, as well as 5 Japanese high school students acting as Peace Ambassadors who have collected more than 600,000 signatures in opposition to nuclear weapons which they will submit to the United Nations.

Together, they learned from one another's testimonies about the impact of the nuclear fuel chain on people's lives.

Members of the Tahitian NGO Moruroa e Tatou explained how France conducted some 46 atmospheric nuclear tests and 147 underground tests in French Polynesia between 1966 and 1996. One delegate spoke of his own experience as a worker at the Moruroa Atoll nuclear test site, and described the multiple illnesses related to the tests from which Tahitians suffer today. They also spoke of their effort to raise awareness on the issue, and fight for the rights of nuclear test victims, notably to get compensation for workers and residents who became sick or died after being exposed to radiation.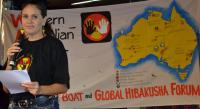 Members of the Australian delegation spoke of the negative impact of uranium mining in Australia. As an Aboriginal woman from the Bibbulmum Nation and Chair of the Western Australian Nuclear Free Alliance, Peace Boat guest educator Della Rae Morrison described the great spiritual and subsistence significance land has for Aboriginal communities, while Felicity Hill, research and policy adviser to Australian Greens Senator Scott Ludlam, spoke of the air and water contamination caused by the mines - and its impact on people's health.

Despite the fact that Australia has neither nuclear weapons nor nuclear power, there are nonetheless three operating uranium mines in Australia (including one located within the UNESCO World Heritage Site Kakadu National Park) and another one is planned in Yeelirrie (a place that is sacred to Indigenous Australians) for exportation to other countries, notably the US, France, the United Kingdom, Japan, China and another 9 countries in Europe, Asia and Africa. "Now, the trade in uranium is really hurting our country," said Felicity Hill, "this is something that we really need to stop." "When you support nuclear power, what you are saying is that you don't care about Aboriginal people," she added. "You are part of what is killing them."

Participants in this Global Hibakusha Forum - Pacific issued a joint statement for a nuclear-free world, in which they defined themselves as "Global Hibakusha". The Japanese term "Hibakusha" has traditionally been used to describe those who survived the bombing of Hiroshima and Nagasaki. With this statement, they extended it to include "all victims of radiation at each link in the nuclear chain - uranium mining, nuclear reactors, nuclear accidents, nuclear weapons development and testing, and nuclear waste."

In the words of Felicity Hill, this join appeal represents "a breakthrough of sorts in that the group was able to assert unequivocally that radiation itself is the problem - whatever its source - and called for investment in truly clean energy, the kind if inalienable right everyone can get behind in a fragile and finite world facing climate change."

The statement calls upon "responsible governments [to] officially apologise for their nuclear crimes", "disclose all medical and environmental records on radiation exposure," and demand "proper compensation and proper subsidised medical treatment for all Global Hibakusha."

The document also urges Japan to retain Article 9 of its Constitution, which renounces war and called for the "implementation of similar clauses in all constitutions." It further calls for "the conversion of the 1.5 trillion global military budget to health, education programmes and measures that address our real security challenges such as climate change and poverty."

Read the full Global Hibakusha Forum Statement for a Nuclear-Free World here.

Also read the separate statement issued by Youth Group members of Global Hibakusha Forum - Pacific here.

Find the list of participants in the Global Hibakusha Forum - Pacific here.
PARTICIPATE IN THE GLOBAL DAY OF ACTION ON MILITARY SPENDING

This is a reminder about the holding of the first-ever Global Day of Action on Military Spending that will take place on April 12, 2011 to coincide with the release of the Stockholm International Peace Research Institute's annual figures on military spending.

The organizers, the International Peace Bureau and the Institute for Policy Studies, are calling on "people all over the world [to] join together in public actions to focus political and media attention on the costs of military spending and the urgent need for new priorities."

Indeed, in 2009 alone, global military spending rose to an all-time high of $1.53 trillion. Yet, "1.4 billion people live on less than $1.25 a day, 8 million children worldwide died before their 5th birthday in 2009 and 4 million newborn children worldwide are dying in the first month of life" reminds IPB in its new publication The Costs of Development, while "the global development ODA in 2009 reached 126 USD billion, far from the 0,7% target, the commitment of the rich countries to commit 0,7% of Gross National Income to ODA."

As a participant in this initiative, the Global Article 9 Campaign encourages you to join the call for disarmament for development by participating in the Global Day of Action on Military Spending.

If you and/or your organization is interested in (co-)sponsoring an event (from street theatre/demonstrations and erecting banners to seminars, signature collection and more) please contact the GDAMS Secretariat here.

Further information about the Global Day of Action on Military Spending can be found on the GDAMS' website here.

The GDAMS' organizers packet can be found here.

A map and a list of organizers and events can be found here.

Read IPB's new brochure 'What does development cost?' here.
Thank you for your interest in and support for the Global Article 9 Campaign to Abolish War.

Peace,

Newsletter Editor:




Celine Nahory

, International Coordinator
Global Article 9 Campaign to Abolish War / Peace Boat