Organizers

Dear Friends and Supporters of Article 9,
We are pleased to send you some information about the Global Article 9 Campaign to Abolish War's recent activities and related developments.
Much of the news in this edition is from the June-July 2012 period, however we hope that it will still be of interest and relevance. The next edition will be issued soon, containing more updates about current debates and activities related to Article 9 and peace constitutions in recent weeks.
Thank you for your support and ongoing cooperation.
NODA ADMINISTRATION MOVES TOWARDS ALLOWING USE OF RIGHT OF COLLECTIVE SELF-DEFENSE

Japanese Prime Minister Noda stated on July 9, 2012 at a meeting of the Lower House Budget Committee his will to carry out debate on the reinterpretation of the constitution in regards to the right of collective self-defence, in a display of his drive towards accepting the use of this right.

Until now, the interpretation of Article 9 of Japan's Constitution has taken the position of maintaining the right to collective self-defense while prohibiting its use. This has prevented joint US-Japan military actions. If the government is to change its constitutional interpretation and allow even a partial recognition of the use of the right to collective self-defense, the range of permissable joint US-Japan military actions would be greatly expanded.
Prior to Prime Minister Noda's statements, the government established "Frontier Subcommittee" released its report on major national strategy towards the year 2025 on July 6, including recommendations to revise the interpretation of the constitution regarding the right to collective self-defense. (An overview of the subcommittee report in English can be seen
here
.
These recommendations also include "deepen[ing] security cooperation with the United States and other countries that share common values."


Despite Prime Minister Noda's statements, opposition and concern within the governing Democratic Party of Japan remains strong, and so agreement will not be easily reached. However, within internal conflict within the party on issues including nuclear power policies and tax increases has deepend in recent months, and there have been many cases of members leaving the party or criticising its leadership. For this reason, Prime Minister Noda and other senior members of the DPJ have been developing more and more cooperation with the opposing Liberal Democratic Party. The LDP has long called for approval of the use of the right to collective self-defense, and has recently been emphasising the need for joint US-Japan measures against China's maritime power. Thus, there is a risk of progress towards revision of the constitutional interpretations as a result of such DJP-LDP cooperation.

While these moves are not directly towards the revision of Article 9 itself, such reinterpretations of the current constitution are steps towards loosening restrictions on Japan's militarization, which should be watched with concern and attention.
NEIGHBOURING COUNTRIES CONCERN RE AMENDMENT TO JAPAN'S ATOMIC ENERGY BASIC ACT

On June 20, 2012, Japan's Atomic Energy Basic Act was amended to include that Japan's nuclear energy should "contribute to national security." This has led to concern in neighbouring countries that this amendment may indicate the possibility of Japan moving to become a nuclear armed state, going against its principles of limiting the use of nuclear energy to peaceful uses. Yet, an examination of the background of this amendment shows that it may be excessive to judge it as a change of Japan's principles of the peaceful use of nuclear energy. It is necessary to consider the situation accurately and conduct calm analysis.
This revision was made according to the creation of a law to establish a new nuclear regulatory commission in the aftermath of the Fukushima nuclear power plant accident. Following this accident, the fact that Japan's nuclear regulatory bodies fall under the Ministry of Economy, Trade and Industry, which promotes nuclear energy, was greatly criticized, leading to the creation of an independent body.

Within the establishment of this new agency, it was stated within law that its purpose would be to "contribute to the protection of the lives, health and assets of Japan's citizens, and to Japan's national security." According to this, a revision was made to the Atomic Energy Basic Law created in 1955, adding this phrase also to the basic law.

The Japanese Government is emphasising that this term "national security" refers to nuclear nonproliferation and nuclear security, and does not indicate any change in Japan's principles of the limitation of nuclear energy to peaceful use.

However, attention should still be given to certain points. The expression "national security" was added upon the demand of the opposition Liberal Democratic Party. As the public will against nuclear power increases, some members within the LDP have publicly been calling for the need to maintain nuclear energy as a latent nuclear deterrent. Such statements have also been reflected in editorials of Japan's largest conservative newspaper, the
Yomiuri Shimbun (September 7, 2011)
. As mentioned in the above article, the current Noda Administration has been strengthening its cooperation with the LDP as its own leadership power wanes. The reference to "national security" was inserted as a result of the DJP giving in to such conservative pressure.
Furthermore, this revision was made with barely any discussion within the National Diet. It was passed before many Diet members even realized that such preparations or recommendations were in place. Immediately before the amendment was passed, the "Committee of Seven for World Peace" consisting of distinguished public figures announced an emergency appeal, leading to domestic and international attention.
This situation has also had significant impact on neighbouring countries. Many in Korea viewed this as an expression of Japan's moves towards nuclear armament (for example:
http://www.asiasentinel.com/index.php?option=com_content&task=view&id=4640&Itemid=176
), This has led in turn to an increase in the debate on nuclear sovereignty in Korea, where voices calling for a revision of the nuclear energy pact with the United States and obtaining the right for uranium enrichment and reprocessing of spent fuel are growing stronger. This has the risk of bringing Northeast Asia further into a downward spiral.
The Japanese Government is making clear its continued maintenance of the three non-nuclear principles, the Nuclear Nonproliferation Treaty, and the limitation of nuclear energy to peaceful use within the revised Nuclear Energy Basic Act. It is therefore an exaggeration to judge that recent moves indicate steps leading Japan towards becoming a nuclear armed state. It is important to continue to pay attention to hawkish debate within Japan, while ensuring the pursuit of calm dialogue within the Northeast Asian region.
NORTHEAST ASIAN NGOs MEET IN VLADIVOSTOK TO DISCUSS PEACEFUL RESOLUTION OF TERRITORIAL DISPUTES
The Global Partnership for the Prevention of Armed Conflict (GPPAC) Northeast Asia Regional Steering Group gathered in Vladivostok, Russia for its 9th Annual meeting from July 6-8, 2012. The meeting was jointly held by GPPAC NEA's Regional Secretariat Peace Boat and the Vladivostok Focal Point, Maritime State University.

20 representatives from focal points in Beijing, Hong Kong, Kyoto, Seoul, Shanghai, Taipei, Tokyo, Ulaanbaatar and Vladivostok; from GPPAC's partner organisation in Pyongyang, and from the GPPAC Global and NEA Regional Secretariats participated in this meeting. It comprised of a one-day international scientific conference on territorial and border issues in the Asia Pacific, followed by two days of closed meetings for the GPPAC Northeast Asia Regional Steering Group and observers.

Territorial issues have been a key focus since the launch of the GPPAC Northeast Asia network. As outlined in the Regional Action Agenda, adopted in 2005, "The cases of political stalemat
e in Northeast Asia, including numerous disputes over territories, pose grave dangers to the whole region. We reaffirm our universal belief in and respect for the peaceful resolution of disput
es, and we should prevent the escalation of tension which could lead
to armed conflict, and ease the political stalemates through the active promotion of peaceful resolution through regional cooperative efforts."

Participants agreed to continue exchang
e of information and discussion on these issues within GPPAC Northeast Asia, particularly in regards to the Senkaku/Diaoyu/Diaoyutai dispute. Members agreed to be ready to share timely information regarding developments in each country regarding this issue, and also to prepare position papers which could be utilised for outreach to the media and the public in case of future incidents
. Participants also acknowledged that military exercises heighten tensions and the threat of conflict, and that military exercises in or near di
sputed territories should be ceased.

Read the full meeting report online here.
APRIL 17: GLOBAL DAY OF ACTION ON MILITARY SPENDING (GDAMS) 2.0 A WORLDWIDE SUCCESS

Thanks to four months of fruitful outreach, fortifying and expanding the network of civil society groups that make up the Global Day on Military Spending (GDAMS) coalition, the second Global Day, on April 17, was a tremendous success worldwide.

Over 130 different actions took place in 42 countries worldwide. Many actions took place in Western Europe, including a high-level summit at the United Nations in Geneva with the High Representative for Disarmament Affairs. And there was a major increase in participation from groups in the Global South. In Africa, where military spending is on the rise amidst growing dissident people's movements, events were held in Uganda, Cameroon, Kenya, South Africa, Sierra Leone and the Democratic Republic of the Congo.

In South Asia, with India rising to become the world's leading arms importer, activists are organizing on a major scale as the arms race between India and Pakistan escalates. Over 30 actions took place in villages and cities throughout Pakistan, including major rallies in the cities of Islamabad, Karachi and Lahore, eliciting participation from parliamentarians, and a hunger strike by noted activist Raja Jahangir Akhtar. In India there was also a mix of rural and urban activism to mark GDAMS, and in Bangladesh, activists met with a number of Members of Parliament, including the Deputy Speaker, to discuss disarmament both in the country and in the region.


In the US (country accounting for 41% of global spending) there were more than 50 actions. These actions stressed the key facts that: 1) 48% of all tax revenues go toward the military; 2) $1 billion spent on education, health care or green energy will create more jobs than $1 billion in military spending; and 3) the Aerospace and Defense industry pays on average less than half of the standard corporate tax rate. The Occupy movement joined in on the Global Day in Washington, D.C., Boston, Los Angeles, Oakland, Kansas City, Asheville, Raleigh and Greensboro, NC, New Paltz, NY, and Eugene, OR. Some of the actions included marches on defence contractors ("Occupy the Military-Industrial Complex") in Washington, LA and Tucson, street theater in Montgomery, MD, rallies outside post offices in several cities, a large rally at City Hall in Philadelphia, and a massive march with over 1,000 participants from a broad network of groups in Boston.

"Almost every country with a military is on an insane path, spending more and more on missiles, aircraft, and guns, while the planet is in crisis," said John Feffer, Co-Director of Foreign Policy In Focus, a project of the Institute for Policy Studies. "These countries should be confronting the real threats of climate change, hunger, disease, and oppression, not wasting taxpayers' money on their military." "We are not only talking about money", added Colin Archer, Secretary-General of the International Peace Bureau. "The world is misusing some of its most brilliant brains, which are desperately needed to tackle issues like the energy crisis and the challenge of creating millions of new jobs".

On this occasion, UN High Representative for Disarmament Affairs, Angela Kane, highlighted the human cost of military spending, pointing out that massive military expenditures deprive the world of the resources required to address global challenges such as climate change, food security, natural and man-made disasters and global epidemics.
For his part, former Costa Rican President and 1987 Nobel Peace Prize winner Óscar Arias issued a video statement highlighting how, without an army, Costa Rica has been able to invest public resources in the public interest - education, healthcare, development, humanity. Arias shares his thoughts on what might happen if the whole world shared the Costa Rican vision of a peaceful and just world.
Following the success of this second GDAMS, plans are underway to take this tremendous momentum and turn a global day into a global movement to demilitarize and fund human needs. Campaigning is taking place around the Arms Trade Treaty, the Rio+20 Development Conference, and other major global initiatives to abandon the path of war and destruction and embrace peaceful development and environmental stewardship.

For event reports, including photos and video, from around the globe. please go to this link.

Visit the GDAMS website here.
HORIZON 2012 - MIDDLE EASTERN CSOs CALL FOR A NUCLEAR WEAPON-FREE MIDDLE EAST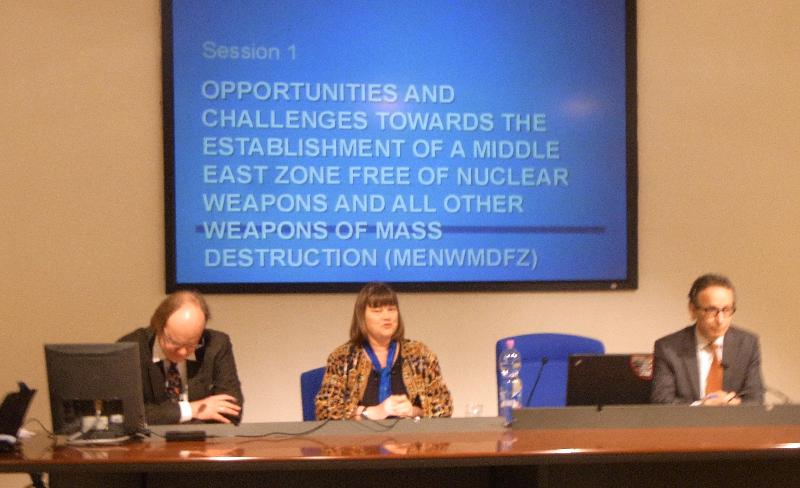 From March 23-27, 2012, 30 international and regional civil society representatives from Egypt, Iran, Israel, Jordan, Lebanon and Palestine, as well as governments, the UN and Arab League officials convened in Civitavecchia, Italy and on board Peace Boat in the Mediterranean Sea under the auspices of Peace Boat's Horizon 2012 Project to discuss the conference on the Middle East Nuclear Weapons and All Other Weapons of Mass Destructions Free Zone (NWMDFZ) scheduled for later this year in Finland.

About Horizon 2012
The initiative, Horizon 2012, is a creative and comprehensive program of multi-track strategy-building, advocacy and diplomacy in the Middle East that seeks to build upon the decision by the 2010 NPT Review Conference to convene an international conference in 2012 on the establishment of a Middle East NWMDFZ , through building confidence and understanding within the region of the value of such a conference and the concrete possibilities and benefits offered by a future MENWMDFZ.

Horizon 2012 is an attempt by civil society to contribute to this process by providing a platform for civil society information sharing and confidence building in order to bring the issue of nuclear disarmament onto the agenda of civil society movements for peace, democracy and human rights in the Middle East. The project aims to develop and improve mechanisms for the coordination of CSO strategy, advocacy and outreach in the lead-up to, during and following the 2012 international conference.

It also seeks to facilitate discussions and enhance mechanisms for regular interactions and dialogue between civil society and decision-makers at the local, regional and international level, including government officials, representatives of regional and international organizations, as well as the facilitator for the 2012 international conference, Ambassador Jaako Laajava.

Implemented through series of meetings, the project brings together all stakeholders in the process (including NGOs representatives, academic institutions, parliamentarians, lawyers, former military officials, journalists, medical doctors, and key regional and international officials involved in the diplomatic process).

Recommendations to Ambassador Laajava
During Horizon 2012's series of meetings held in late March 2012, participants engaged in direct exchanges of information and views, deliberations, as well as negotiations over a set of recommendations addressed to the 2012 international conference facilitator Mr Jaakko Laajava and to political leaders in the Middle East on the process towards the 2012 international conference.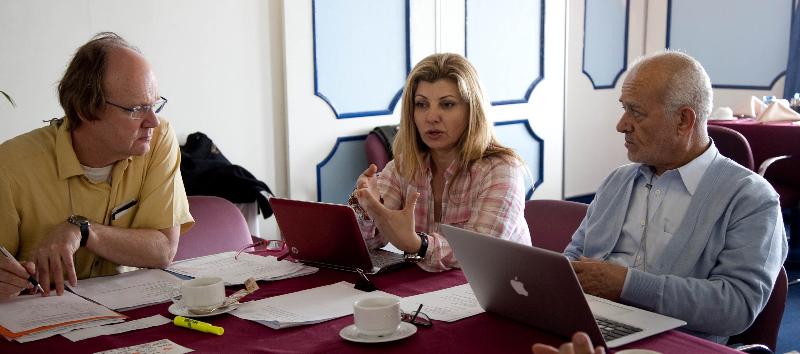 Affirming that ownership of the process towards the establishment of a MENWMDFZ lies with the peoples of the region, participants identified basic principles that should guide deliberations at the 2012 conference and other future efforts to establish a MENWMDFZ - notably on the scope of participation, the substance of deliberation, the process for the establishment of the zone, as well as on the role civil society should play in this process.

In a joint statement, participants "affirm[ed] that the Middle East free from nuclear weapons and other WMDs is in the national security interests and the collective regional security interest of all the states in the region. It will also protect and strengthen the human security of all the peoples of the region, equally and without discrimination, enabling them to live without fear and in freedom and dignity, progressing towards peace and development. This will be an important building block towards achieving the vision of a world free of nuclear weapons and all other weapons of mass destruction. "

They also recalled the need for parallel roadmaps to deal simultaneously with the establishment of an Israel-Palestinian/Israel-Arab peace on the one hand, and the question of the global non-proliferation and disarmament regime on the other hand.

Convinced that local, regional and international CSOs have a decisive role to play in determining the future of the region, participants called for CSOs to be given space to play an active role, including being granted public representation at the Finland conference itself.

They also discussed ways in which civil society can and should play a meaningful role in the process, including by reframing the debate, engaging with all stakeholders, improving outreach and coordination among existing CSO strategies, and developing new forms of creative engagement.

Read the full set of recommendations addressed to the 2012 international conference facilitator Mr Jaakko Laajava here, as well as the joint statement here.
Download the Summary Report of the Horizon 2012 Meeting (March 23-27) here.
For more Information about the project, visit Peace Boat's webpage on Horizon 2012 here.

Horizon 2012 is a project of Peace Boat, supported by the Global Partnership for the Prevention of Armed Conflict (GPPAC), Parliamentarians for Nuclear Non-proliferation and Disarmament (PNND) and in partnership with the International Campaign to Abolish Nuclear Weapons (ICAN) and IKV Pax Christi
Thank you for your interest in and support for the Global Article 9 Campaign to Abolish War.
Peace,
Newsletter Editors:




Celine Nahory

, Akira Kawasaki, Meri Joyce

Global Article 9 Campaign to Abolish War / Peace Boat