NORTHEAST ASIA - 70TH ANNIVERSARY COMMEMORATIONS: TO PROMOTE PEACE OR INFLAME TENSIONS IN THE REGION?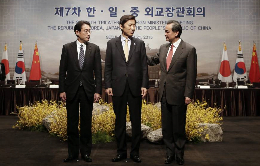 On March 20, foreign ministers of South Korea, China and Japan met for the first time in three years.
Annual trilateral talks have been suspended since 2012, due to tensions between Japan and its neighbors over wartime history and territorial issues. South Korea and China see Japan's reluctance to face up to its wartime past a major impediment to their diplomatic relations.
Chinese President Xi Jinping held his first direct talks with Japanese Prime Minister Abe Shinzo last November on the sidelines of the Asia-Pacific Economic Cooperation Forum Summit. South Korea's President Park Geun-hye has never held official talks with Abe since she came to power.
The meeting offers some encouragement regarding the resumption of dialogue among key countries in the region. In a bid to restore what had been a regular forum to discuss cooperation, the three foreign ministers agreed to improve bilateral relations "in the spirit of facing history squarely and advancing toward the future" and to continue efforts toward arranging a top-level trilateral summit "at the earliest convenient time for the three countries."
"There is no schedule. We have to create the necessary conditions for that," Chinese Foreign Minister Wang Yi said, adding China will need to examine what Abe says on the war anniversary this summer.
Indeed, this year marks the 70th anniversary of the end of World War II. A series of commemorative events will be held across the region.
China's Military Parade
China will organize a military parade on September 3, and invited the leaders of major countries involved in the war to attend.
"The goal (of holding a parade) is to show that China and the people of the world have the capability and determination to defend world peace," Foreign Ministry Spokesman Hua Chunying said, denying it is intended to "flex muscles for anyone."
Yet, China declared September 3 as "Victory Day of the Chinese People's War of Resistance Against Japanese Aggression" and delayed inviting Prime Minister Abe to the ceremony.
It is highly unlikely that Abe will attend, given China's confrontational stance on Japan's wartime responsibilities. Asked about the possibility, a senior Japanese diplomat told the daily Yomiuri Shimbun "Japan is asking China to improve the transparency of its military budget, so it's impossible for the prime minister to attend."
"In the 70th anniversary year … we think it is important for us to show willingness to tackle common challenges the global community faces in a forward-looking manner," Chief Cabinet Secretary Yoshihide Suga further commented.
Japan's Statement
For its part, Japan's Prime Minister Abe is planning to issue a statement to mark the end of World War II in August.
Abe announced his intention that the document be "future-oriented" so as to highlight Japan's postwar achievements as a peaceful nation and its intent to contribute more actively to peace in Asia and worldwide. This declaration has generated intense speculation and concern over the wording of that statement, for it may fall short of reiterating the "deep remorse" and "heartfelt apology" for Japan's colonial rule and wartime aggression made by Abe's predecessors.
In 1993, Chief Cabinet Secretary Kono Yohei released a statement expressing "sincere apologies and remorse" to former 'comfort women' forced into sexual slavery by the Imperial Japanese Army before and during World War II. In 1995, on the occasion of the 50th anniversary of Japan's surrender in the war, Prime Minister Murayama Tomiichi apologized for the "tremendous damage and suffering" Japan inflicted to the people of Asia and other countries through its colonial rule and aggression. In 2005, Prime Minister Koizumi Junichiro reiterated Japan's "feelings of deep remorse and heartfelt apology" for "its colonial rule and aggression [that] caused tremendous damage and suffering to the people of many countries, particularly to those of Asian nations."
Abe's revisionist attitude towards Japan's wartime actions has stirred controversy, notably his visits to the Yasukuni Shrine, offensive remarks over "comfort women", the revision of guidelines for Japan's history textbooks, his questioning that Japan's wartime actions should be considered as "aggression", and earlier calls to revise the Kono and Murayama statements.
Although Abe has said his cabinet "upholds the position of previous cabinets regarding recognition of history as a whole," Abe controversially said he "want(s) to issue (the statement) from the perspective of the way the Abe administration sees the past 70 years, not on whether to use wording that has been adopted."
"I want to show our intentions for the future, such as what contribution Japan will make for the globe and what sort of world it will help to create," he added.
"War of aggression"
In February, Abe set up a 16-member advisory panel to reflect on what he should say in his planned statement. The panel is expected to issue its report by summer.
The deputy chief of the panel, Kitaoka Shinichi (a close adviser to the prime minister who recommended that Abe reinterpret the pacifist Constitution to enable the right of collective self-defense), took observers by surprise. On March 9, addressing a symposium in Tokyo, Kitaoka made clear he wanted Abe to acknowledge that Japan fought "a war of aggression" against China in the 1930s and '40s. "Japan fought a war of aggression. It did really dreadful things. It's clear," he said, adding he "want(ed) Mr. Abe to say, 'Japan committed aggression'."
Public opinion
Kitaoka's views seem shared by a clear majority of the people of Japan, who want the prime minister's statement to "express regret and apologize for Japan's colonial rule and aggression."
"Why would he need to change the words?," wonders former leader of the Liberal Democratic Party and author of the landmark 1993 apology over comfort women, Kono Yohei. "Japan made a fresh start 70 years ago based on remorse for that tragic war, the many lives lost and the troubles caused to neighboring countries," he said. "Now Japanese people worry in their hearts that we will somehow set aside that remorse and those memories, and walk the same path as in the past," Kono added, stating that Abe "must erase those doubts and the simplest way to do so is to uphold the Murayama statement unchanged."
Regional impact
"There is great concern (overseas) that Japan is diluting its remorse toward the past and is lurching to the right. I worry about that," said Murayama, adding caution that the content of Abe's statement may lead to "the mistrust of Asia and the world."
Indeed, critics warn that omitting words such as "colonial rule and aggression," "deep remorse" and "heartfelt apology" would exacerbate Japan's relations with its East Asian neighbors, already marred by historical and territorial issues.
China, South Korea and the United States will be watching closely how Japan handles the commemorations. The future of Japan's relations with its neighbors is at stake.
Picture credit: Associated Press