OBAMA'S HISTORIC VISIT IN HIROSHIMA - READING BEYOND THE RHETORIC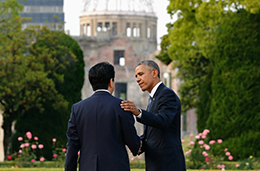 On May 27, 2016, Barack Obama became the first ever sitting United States president to visit Hiroshima, one of the two cities destroyed 71 years ago by US atomic bombs.
The historic visit was meticulously planned in Tokyo and Washington in what observers qualify as a "diplomatic dance". The highly symbolic visit had to appear as the continuation of his "vision for a nuclear-free world," yet without seeming to apologize or to re-open the controversy over the legitimacy and necessity of the bombings of Hiroshima and Nagasaki; to highlight the Japan-US strategic partnership, yet without drawing the ire of Japan's neighbors that feared the visit would be used to condone Japan's attempts to whitewash its responsibility for wartime atrocities. For nuclear disarmament advocates, the hope was that his visit would draw attention to the catastrophic human cost of atomic weapons.
Like the protocol for the ceremony, Obama's 17-minute speech was reworked many times, to make it "a broad reflection on what we must learn from history." According to his speechwriter, his statement had to be "profoundly realist" and "idealistic", while addressing several key issues on the international agenda. Japanese Prime Minister Abe Shinzo, who accompanied President Obama, also made a statement. In their addresses, the two leaders spoke of nuclear disarmament, reflected on war in general, and showcased the US-Japan alliance.
Yet, beyond the rhetoric, what have the two leaders accomplished on peace, security and nuclear disarmament?
>NUCLEAR DISARMAMENT
The visit was undeniably meant as the symbolic culmination of Obama's nuclear policy since he laid out his vision for a nuclear weapon free world in his 2009Nobel Peace Prize-winning speech in Prague in 2009. Yet, seven years later at the Hiroshima Peace Memorial Park, his tone and commitments were not as convincing: he did not announce any concrete policies or steps for nuclear disarmament.
Moreover, his record in this area cannot be matched by actual progress. Indeed, despite his call for a nuclear weapon free world, Obama's administration has since he took office reduced US stockpiles less than any other post-Cold War administration; signed off on a $1 trillion modernization program of the US nuclear arsenal over the next three decades – the largest in US history; and refused to participate in (and even attempted to stall) all recent multilateral efforts aimed at taking forward nuclear disarmament, most notably the current momentum towards starting negotiations on a new international treaty banning nuclear weapons, potentially set to begin as early as next year.
Asai Motofumi, a former Japanese Foreign Ministry official who directed the Hiroshima Peace Institute from 2005 to 2011 commented on the visit: "Obama has not come up with positive policies to reduce nuclear weapons let alone dismantle nuclear weapons in the seven years after he delivered a speech in Prague in 2009."
Likewise, Japan – which pictures itself as a major voice for a world without nuclear weapons despite its policy of relying on US nuclear deterrence – also has a bleak record in this area.
In recent months, the Abe administration has resisted efforts in international fora, notably by abstaining from the U.N. General Assembly vote to launch a working group to take forward multilateral efforts on nuclear disarmament, taking a negative stance on the Humanitarian Pledge endorsed by 127 states to "prohibit and eliminate nuclear weapons in light of their unacceptable humanitarian consequences and associated risks", and most recently by opposing a proposal to begin negotiations on a treaty banning nuclear weapons.
Most strikingly, in a blatant negation of Japan's longstanding Three Non-Nuclear Principles (which forbid it from developing, possessing or introducing nuclear weapons onto Japanese soil), Abe's Cabinet has claimed that possessing nuclear weapons would not violate the country's constitution, arguing that "Even if it involves nuclear weapons, the Constitution does not necessarily ban the possession of them as long as they are restricted to such a minimum necessary level."
OBAMA'S REFLECTIONS ON WAR
More generally, Obama's speech reflected on World War II and on the brutal nature of war in general: on the suffering it inflicts mostly on innocent people, on the rationale used to "justify violence in the name of some higher cause", on the need for a moral revolution, on "what we must do differently to curb such suffering again."
Yet, these considerations left observers skeptical, coming from the president of the country that has the largest arsenal and military capacity in the world and that is involved in many wars around the globe. Indeed, it can be little argued that Obama's Hiroshima speech will bring a decisive change to US foreign policy, let alone to the US nuclear doctrine.
As he reflected on the brutal nature of war and asked "what we must do differently to curb such suffering again", President Obama made no reference to Japan's peace constitution, nor to the current debate to amend its war-renouncing clause, Article 9.
Japan's Constitution, drafted and adopted after WWII, renounces war as a means of settling international disputes. For over 70 years, the values of peace embodied in the Constitution have inspired Japan's policies, such as its exclusively defense-oriented security strategy, its general ban on arms export and its non-nuclear principles. Article 9 not only made Japan what it is today. It has also played an important role in establishing trust relationships between Japan, the people of the Asia-Pacific, and the international community.
In his Hiroshima speech, Obama said: "We're not bound by genetic code to repeat the mistakes of the past. We can learn. We can choose. We can tell our children a different story, one that describes a common humanity, one that makes war less likely and cruelty less easily accepted." This is precisely what Japan's war-renouncing Article 9 has meant for generations of Japanese, Northeast Asians and beyond. A legacy of the Second World War, Japan's peace constitution has indeed been acting as a peace mechanism in the region.
However, over recent years, the Abe administration has led a long series of attacks on Japan's peace principles, notably by reinterpreting the Constitution to allow Japan to exercise the right to collective self-defense and to expand Japan's security role around the world.
In fact, the US has been welcoming – and some will even say pushing for – these revisions, to allow Japan "to significantly increase its contribution to regional and global security and expand its role on the world stage" and "make the US-Japan alliance even more effective."
SHOWCASING A STRONG US-JAPAN ALLIANCE
Japan's efforts to amend its peace constitution and the related US position must be understood in the broader context of the two countries' efforts to bolster their alliance as part of the US "Pivot to Asia" – an attempt to deepen US diplomatic, economic and military ties in the region in order to contain China.
As such, the joint Obama-Abe visit to Hiroshima was undeniably meant to showcase the strengthening of the U.S.-Japan alliance. Prime Minister Abe, in particular, highlighted the "trust and friendship" between the two countries, and qualified the relationship as "an alliance of hope for the world". He went on, repeating that "Japan and the United States will together become a 'light to bring hope' to the people in the world." For his part, Obama seemed to be a little more careful in the way he portrayed the alliance. According to some observers, a slight difference of tone could be noticed between the two leaders. By emphasizing the "friendship that has won far more for our people than we could ever claim through war," Obama may have intended to focus more on the reconciliatory role of the alliance.
Yet, although neither mentioned China explicitly, the boasting of a strengthened alliance between the two countries was evidently meant to send a strong signal to China, as tensions are rising in East Asia, particularly in and around the South China Sea.
Indeed, Washington has over recent months been strengthening security agreements with countries in the region, including not only Japan, but also the Philippines, Vietnam, Malaysia, Cambodia and Bangladesh. Just a few days before he arrived in Hiroshima, US President Obama visited Vietnam, where he lifted a 50-year long weapons sales embargo.
In fact, as he spoke of "avoid[ing] war", "prevent[ing] conflict through diplomacy" and "ma[king] choices that give us hope", US ships and fighter jets were maneuvering across the South China Sea.
ACTIONS SPEAK LOUDER THAN WORDS
All these actions truly undermine the meaning of Obama's words, and make it hard for anyone to believe in his call to reinvent a "story -- …. one that makes war less likely and cruelty less easily accepted."
As historic as his visit in Hiroshima was, one cannot move past the disconnect between the strong rhetoric and the policies that actually prevent us from making tangible progress for peace and achieving a nuclear weapon free world.
Read US President Barack Obama's and Japanese Prime Minister Abe Shinzo's speeches made on May 27, 2016 in Hiroshima.
Read Peace Boat's statement about the historic visit here.
Read ICAN's press release here.
Photo credit: Agence France Presse