Organizers
Dear Friends and Supporters of Article 9,

We are pleased to send you some information about the Global Article 9 Campaign to Abolish War's recent activities and related developments.
ROW OVER REVIEWING JAPAN'S BAN ON ARMS EXPORTS

At a meeting of the Japan Association of Defense Industry held on January 12, Defense Minister Kitazawa Toshimi suggested in his address that the government would consider reviewing Japan's ban on arms export.
"I believe it's about time to review the basic policy on the principles," Kitazawa said, trying to generate a debate ahead of discussions on Japan's National Defense Program Guidelines and their revision by the end of the year. His remarks echoed a report issued last August (before the elections) by a panel of experts calling on the government to review Japan's ban on arms exports.
In order to diffuse the controversy, Prime Minister Hatoyama Yukio immediately dismissed Kitazawa's remarks, insisting that Japan should adhere to its three principles on arms exports.
"Japan has declared to the world that it is a peaceful nation, and one of its promises is to stick to (the ban on arms export)," he said. "Under the current circumstances, the ban is something that must be maintained."
Others in the government coalition also opposed Kitazawa's remarks. "I can't figure out why on earth he can make such a statement. We strongly protest it," reacted head of the Social Democratic Party (SDP) Fukushima Mizuho.
Established in 1967 in the spirit of Article 9 of the Constitution, Japan's three principles on arms exports do not permit exports of weapons to Communist block countries, to countries subject to United Nations sanctions, and to countries involved in international conflicts. The export ban was virtually extended to all countries in 1976, in conformity with Japan's position as a peace-loving nation.
FROM TOKYO TO D.C.

- OPPOSING US BASES IN OKINAWA
In mid-January, Dr. Abe Tomoko and Mr. Hattori Ryoichi, parliamentarians from Japan's Social Democratic Party (now part of the ruling coalition since September 2009), visited Washington to discuss how to resolve the current standoff between Japan and the US over the relocation of military bases in Okinawa.

Despite overwhelming opposition from the people of Okinawa and earlier signs by the new Japanese government it would try to renegotiate the terms of the agreement, Tokyo has balked to Washington's demands that Japan abide by a 2006 agreement to close the current Futenma base, relocate 8,000 Marines in Guam, and build a new base at some other location in Okinawa.

Through a series of meetings with US Senators, Congressmen, policy specialists and think tanks, the two parliamentarians insisted on the need to revisit the 2006 Japan-US agreement, pointing out the fact that the agreement was made under the previous regimes of both countries. They called for the return of the Futenma Air Station without any condition on the prior establishment of a new base in Henoko, in Okinawa.

By addressing the severity of problems caused by US military in Okinawa, the SDP representatives claimed that Japan's new ruling coalition government firmly stands on "lessening of the burden of Okinawa" and is currently in the process of discussing a proposal to replace the agreement.
Dr. Abe and Mr. Hattori emphasized that calling for the renegotiation of the agreement was not attempting to weaken the US-Japan alliance as implied by some media articles, but rather to develop a more equal and sustainable relationship between two countries.
They also participated in a meeting organized by the Pacific Freeze with NGO representatives, in which they discussed strategies to express opposition to the construction of a new US base in Okinawa. Suggestions included public outreach and campaign, advocacy and the possibility of filing a lawsuit.
At the same time in Tokyo, a new peace action network was formed. Made of U.S., Japanese, Canadian, New Zealand, Australian, Welsh, Mexican and other citizens living in Japan, US for OKINAWA is committed to forming liaisons with Okinawan and Japanese peace groups in opposing the bases in Okinawa, as well as adding their voices to the International Network for the Abolition of Foreign Military Bases (NO Bases) calling for the dismantling of the more than 1,000 foreign military bases across the world, and for the creation of sustainable alternatives to economies that presently remain dependent upon their existence.
For more information about actions in the US, visit the Pacific Freeze website here.
Follow 2010 Okinawa on Twitter here, and watch video clips regarding the US military bases in Okinawa on youtube here.
For more information about US for Okinawa, click .
To join the network or receive more information, write to us.for.okinawa [@] gmail.com.
PETITION AGAINST NAVY BASE ON JEJU ISLAND, SOUTH KOREA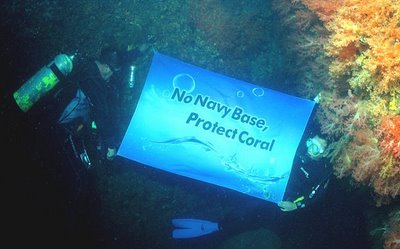 The Global Network Against Weapons & Nuclear Power in Space is inviting organizations and concerned individuals from around the world to sign a petition voicing their protest with the US and South Korean governments about the plan to build a Navy base on Jeju Island, South Korea - also known in the region as the peace island.
The construction of the naval base threatens to destroy coral reefs listed by the UNESCO as world heritage environmental sites, and to disrupt fishing and the way of life of the people.
Local residents of the nearby village of Gangjeong have mobilized to resist and call for their island to remain free of military bases. The protesters, mostly elderly people, set up a tent camp, barricaded the site where the construction is to start with cars, and hanged yellow flags reading 'No Naval Bases'. On January 18, the police brutally raided the peaceful protest, wounding many including elderly people and arresting 46 people notably Catholic Fathers and City Mayor Kang Dong Kyun.
The base is to host US and South Korean Aegis destroyers equipped with missile defense systems. The move is seen as a provocation to China, thus making Jeju Island a prime military target.
For more information, pictures and recent updates of the situation, visit the
No Base Stories of Korea blog
.
To sign a petition and express your support, please send your name, group name, and city/state or country to
globalnet [at] mindspring.com
.


Picture Credit:
Global Network Against Weapons and Nuclear Power in Space
ARMS DOWN - CAMPAIGN FOR SHARED SECURITY

Since November 2009, Religions for Peace's Global Youth Network has launched a year-long global campaign towards disarmament for shared security.
ARMS DOWN - Campaign for shared security seeks to abolish nuclear weapons, stop the proliferation of conventional weapons, and redirect 10% of military expenditure to achieve the UN Millennium Development Goals (MDGs) by 2015.
The campaign launch was organized by Religions for Peace in partnership with the Arias Foundation for Peace and Human Progress and the University for Peace. Costa Rican President Oscar Arias Sánchez and United Nations Secretary General Ban Ki-moon offered support for this initiative that seeks to advance disarmament for shared security
Religions for Peace is the world's largest multi-religious coalition advancing common action among religious communities for peace.

The ARMS DOWN - Campaign for shared security echoes Freres des Hommes' 10% Option, IPB's Disarmament for Development Campaign and the Global Article 9 Campaign, as well as Peace Boat's MDGs project.
Join our efforts and sign the petition asking governments to make an official pledge to cut their military budgets by 10 percent and to re-allocate those funds toward development.
Signed petitions will be delivered to the United Nations Secretary General, the permanent members of the Security Council, as well as to Heads of State and Members of Parliament in your country.
Read more about ARMS DOWN - Campaign for shared security here.
Read more about Freres des Hommes' 10% Option
here
, as well as IPB's Disarmament for Development Campaign
here
. Also visit Peace Boat's MDGs Campaign blog
here
.
Picture Credit:
Religions for Peace
FOR PEACE AND HUMAN NEEDS: NUCLEAR DISARMAMENT NOW!
The countdown towards the Nuclear Non-Proliferation Treaty (NPT) Review Conference in May has started.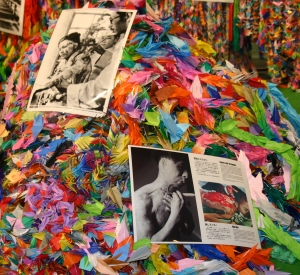 An international campaign of individuals and organizations working towards the common goal of nuclear disarmament has mobilized around the rallying appeal that "nuclear disarmament should serve as the leading edge of a global trend toward demilitarization and redirection of resources to meet human needs and restore the environment."

A few days ahead of the NPT Review Conference, on April 30-May 2, an international conference will take place in New York bringing US and international participants together for analysis and to plan future actions for nuclear weapons abolition, peace, environmental sustainability, economic justice.

A grassroots movement, the For Peace and Human Needs: Nuclear Disarmament Now! campaign has started a new website calling for signatures for a petition to be delivered to the White House and the United Nations at the time of the Nuclear Non-Proliferation Treaty Review Conference in May.

The new site also provides resources on the NPT and the general debate, as well as a list of the well over 200 participating organizations, among which many are supporters of the Global Article 9 Campaign.

Among the many initiatives for disarmament undertaken in the context of the NPT Review Conference, Peace Boat is organizing a third "Global Voyage for a Nuclear-Free World" that will sail from April to July, 2010.

With ten Hibakusha (atomic bomb survivors), as well as students, educators, mayors, diplomats and politicians from around the world onboard, this voyage will visit nuclear weapon states (Russia, France, China), countries renowned for their initiatives in peace and disarmament issues, and send a delegation to the NPT Review Conference in New York in May.

Peace Boat is currently looking for passionate people to participate in this project and travel with the Hibakusha to inform the world about the reality of nuclear weapons and spread the message for a "nuclear-free world."

Visit the website "For Peace and Human Needs: Nuclear Disarmament Now!" here.

For more resources on the NPT Review Conference, including NGO information, calendar of events and more, go to WILPF's Reaching Critical Will website here.

Information about Peace Boat's third "Global Voyage for a Nuclear-Free World" onboard the 69th voyage will soon be available here.
SEND US YOUR NEWS AND UPDATES!

We would like to reiterate our invitation to supporters of the Global Article 9 Campaign to share with us reports of activities and calls for actions related to the Campaign. From a conference, to a sign-on letter or a protest, please send us information at article-9 [@] peaceboat.gr.jp.

This newsletter is a great forum to keep ourselves informed of the many initiatives taking place around the world - let's use it!

Thank you for your interest in and support for the Global Article 9 Campaign to Abolish War.

Peace,

Newsletter Editor:




Celine Nahory

, International Coordinator
Global Article 9 Campaign to Abolish War / Peace Boat